War and the Muses - Claude Monet, Chasseur d'Afrique
In June 1861, Claude Monet (1840-1926), later one of the greatest of the French impressionists, was studying art in Paris when he was drafted for a seven year hitch. Normally a young middle-class man could avoid military service by paying commutation or supplying a substitute. Monet was, however, on the outs with his family over a number of issues, including his desire to study art. Although his father offered to pay the fr 2,500 commutation fee, it was on condition that the young man return home, which he rejected. Moreover, according to Monet, "The seven years of service that appalled [the family] were full of attraction for me," going on to add, "Nothing seemed more attractive than the endless trekking under the sun, the sabers rattling, the nights spent under canvas in the desert . . . ." As a willing conscript, Monet was able to secure assignment to the elite 1er régiment des chasseurs d'Afrique –the 1st African Light Cavalry, stationed in Algeria.
Monet told different stories about his military experiences at various times. On one occasion he claimed that Algeria's scenic beauty was a great inspiration to his artistic development, even helping to become an impressionist. "There was always something new to see. In my leisure moments I tried to capture what I saw. The impressions of light and color that I received there did not sort themselves until later; but they contained the germs of my future experimentation." Monet also said that "The officers took advantage of my talents a great deal, and that was good for some favors," and that he had even executed a formal portrait for one officer. On another occasion, however, he reportedly said that he "had not even thought of painting for an instant." Many years later one painting that Monet executed while in the army supposedly did turn up, but he arranged to have it destroyed, probably because he had attempted a forgery of a then well-known artist (perhaps to raise some money).
Like many young soldiers, Monet got into trouble over some hijinks. One of these incidents became the cause of his leaving the army. He "borrowed" an army mule and went for a ride. The animal proved uncooperative, and after a little while became unmanageable, threw him, and ran away. On falling to the ground Monet struck his head and became unconscious. By the time a search party found him, hours later, he was burning up from typhoid fever. As he was in no condition to face military justice for his unauthorized requisition of military property and absence from his unit, the army granted him medical leave and shipped him off to his family at Le Havre. While recovering, his father or his aunt -- accounts vary -- put up the money to buy a substitute to serve in his place, thus getting him out of the army and back into art school, this time with his family's consent. Over the next few years, Monet began building a reputation as an artist.
Then, in July of 1871 the Franco-Prussian War broke out. By early September the French Imperial Army had been defeated (with almost all the troops either prisoners of war or besieged in Metz), a Republic had been proclaimed at Paris, and a new volunteer army was being raised with tremendous enthusiasm among the people. Many artists volunteered, but Monet, just 30 and recently married, although technically a reservist, left for England.
Monet returned to France after the war, with no noticeable repercussions from having deserted La Patrie in its moment of need, and, of course, went on to become one of the greatest of the impressionists.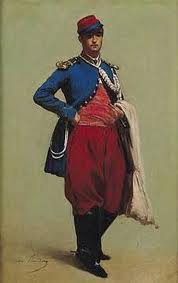 Portrait of Claude Monet in Uniform, painted in 1861, the most well-known work of his friend Charles Marie L'Huilier (1824-1898), also from Le Havre.