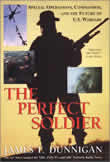 The Perfect Soldier: Special Operations, Commandos, and the Future of Us Warfare by James F. Dunnigan
Dirty Little Secrets
Sad End for Oscar
by James Dunnigan
August 16, 2006
Discussion Board on this DLS topic
The Russian government has decided not to finish construction of the Belgorod, last of nine Type 949A SSGNs (nuclear powered cruise missile submarine). Known in the West as the Oscar II class, these boats began entering service just as the Cold War ended (three were in commission when the Soviet Union disintegrated in 1991). Construction continued on six more, and by 1997, eight were in service. But at that point, the navy had run out of the money, with the Belgorod not quite complete. At this point, another $100 million is needed to complete Belgorod, but the government (although not the navy) feels it isn't worth it.

Seven Oscar IIs remain in service, as the Kursk was lost in 2000, to a well publicized accident. The Oscar's were designed as "carrier destroyers," with long range cruise missiles that could, in theory, take out an American aircraft carrier. The Oscar II class boats have a surface displacement of 14,000 tons. They have eight torpedo tubes (4 650mm, 4 533mm), and 24 SS-N-19/P-700 Shipwreck missiles. These anti-ship missiles have a range of 550 kilometers, a speed of 1600 kilometers an hour, and a 1,650 pound high-explosive warhead (or a nuclear warhead of 350 or 500 kilotons as an option). The Oscar's crew of 107 contains 48 officers. That's because of the high degree of automation, and the need to offer officers pay and accommodations to attract the technical talent required to keep these boats going.

The United States and Russia are no longer at each other's throats, especially on the high seas. The Oscar's are expensive to operate, and will probably be retired over the next decade, as their nuclear reactors come up for refueling.