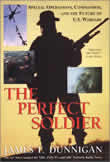 The Perfect Soldier: Special Operations, Commandos, and the Future of Us Warfare by James F. Dunnigan
Dirty Little Secrets
The Mysteries of Guantanamo
by James Dunnigan
April 17, 2004
Discussion Board on this DLS topic
There are 559 terrorism suspects being held in an American prison at Guantanamo Bay, Cuba. Another 146 suspects have left the  island. Most of those who have left (134) have been released, and sent back to their country of origin. Another twelve were transferred to the custody of other nations (four to Saudi Arabia, one to Spain and seven to Russia) for further interrogation and possible prosecution.
The main purpose of the Guantanamo Bay operation is interrogation. For over two years, prisoners have been subject to a wide variety of interrogation techniques. None of these included what is normally thought of as torture. Psychological methods are the norm, and are apparently very successful. The results of these interrogations will be kept secret for many years. This is necessary to protect those who gave up information, and the usefulness of that information. All American officials will say is that the Guantanamo interrogations have been very successful. Many of the prisoners were cooperative from the start, although many of those men turned out to be rather low in the al Qaeda chain of command. 

Some of those sent to Guantanamo Bay were taken in error. But as the Taliban government collapsed in late 2001, the few American troops in Afghanistan did not have the resources to insure that every suspicious character they grabbed was really an important intelligence source. So the policy became, "when in doubt, ship 'em out." Many of those taken were grabbed because they were caught trying to kill coalition troops or their Afghan allies. That's how a lot of the teenage prisoners got shipped to Guantanamo. Others were taken because of a hunch. The idea was to get as large a group of Taliban and al Qaeda members as possible. This makes it possible to obtain a large amount of seemingly trivial data on these two organizations. That's where the intelligence analysts come in. All this information forms part of a large, more useful, whole. Often seemingly innocuous information proves vital (like where certain people were at a certain time, or what their job was) when Taliban or al Qaeda organization or operations are being sorted out. 

Keeping these prisoners at Guantanamo for so long was necessary because interrogation methods developed during the Cold War required a long period of time to work. These methods rely on developing personal relationships with reluctant subjects. Basically, you wear them down with familiarity and persistence, not physical torture. Often, the subjects are not even aware that they are giving up secrets, and often you don't let them know that they have. Over months, or years, the subjects lose track of what they have said, or even of what is important. In the meantime, more information is obtained from other prisoners, or from events outside of Guantanamo, which can be developed into new questions. 

Releasing some prisoners may cause problems, because the former prisoners can then report what they gave up. Or, if they gave up a lot, they might be killed. Of course, this can be used as a weapon. A particularly stubborn prisoner, holding very valuable information, might be encouraged to speak up if he is threatened with release, of himself, along with rumors that he talked big time. 

When the full story of the Guantanamo interrogations are eventually released, they will make very interesting reading.