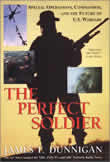 The Perfect Soldier: Special Operations, Commandos, and the Future of Us Warfare by James F. Dunnigan
Sweden Shrinks Towards The Future
by James Dunnigan
February 14, 2010
Sweden has cut its defense spending about 20 percent in the last decade, and will freeze its defense budget at about $5-5.5 billion a year, for most of the next decade. At the same time, it wants to raise the readiness of its active duty units for deployment overseas on peacekeeping missions. The goal is to have all units of the active military capable of deployment outside Sweden, within a week. Currently, only a third of the active duty troops can be sent abroad, and many of these require up a year of preparation.

Parliament has called for all-volunteer, battalion size units, to be formed into seven battle groups, by 2014. To this end, the military has to deactivate several infantry and tank units, but improve the readiness of the remaining 12,500 troops who are eligible for deployment. This includes eight infantry battalions. The navy's amphibious infantry battalion ("marines") will be turned into an infantry battalion with amphibious capabilities.

Some 30 percent of the infantry units will be cut, along with half the 150 Leopard 2 tanks. With the Soviet Union gone (since 1991) and Russia much less of a threat, Sweden does not see the need to have as many tanks on active duty. Sweden has long maintained a "mobilization army" (like Israel and Switzerland), where most troops get their military training, then go to reserve units (where they receive refresher training for up to twenty years.) During the Cold War, the Swedes could mobilize about a million troops. Since the end of the Cold War, this has been reduced to 330,000, and will be cut a bit more under the new budget.

The air force and navy will undergo go less stress and transformation. The Swedish Air Force is one of the more powerful in the region, and the Swedish Navy has maintained much of its strength, as other Baltic navies downsized enormously when the Cold War ended.

Military leaders are not happy with this, but the politicians, legislature and voters have spoken. The Swedes are still able to mobilize over 30,000 troops in a few hours, for any military emergency or natural disaster. There are growing doubts about the enthusiasm of officers and NCOs to turn the military inside out to conform with a plan formulated by politicians. Many of those officers and NCOs are simply leaving the military, or planning to. So there is some anxiety about what shape the Swedish military will be in by 2014.