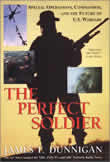 The Perfect Soldier: Special Operations, Commandos, and the Future of Us Warfare by James F. Dunnigan
SeaFox On The Run
by James Dunnigan
November 16, 2012
The recent massive naval mine clearing exercise in the mouth of the Persian Gulf (the Straits of Hormuz) demonstrated two things. First, mine clearing ships (which many nations have) and mine clearing helicopters (like the U.S. MH-53) were not as successful as hoped. A lot of the practice mines used were not found. Second, one new system, the SeaFox (a remotely controlled underwater system) was very successful. Ten nations already have SeaFox, and while the United States is a new user, it is hustling to make SeaFox work from different ships and aircraft.  This involves training ship crews to operate SeaFox and equipping ships with the control equipment.
Earlier this year the U.S. Navy ordered several dozen more of the expendable SeaFox UUVs (unmanned underwater vehicles). SeaFox was designed to find and destroy bottom mines (which sit on the seabed) as well as those that float. These UUVs were quickly sent to the Persian Gulf to deal with potential Iranian use of naval mines. The U.S. first used their new Seafox UUVs on some of the eight U.S. Avenger class mine hunting ships stationed in the Persian Gulf.
SeaFox is a small (1.4x.4x.2 meters/55x16x8 inches) battery powered sub that weighs 43 kg (95 pounds) and has a fiber-optic cable connecting it to a surface ship or hovering helicopter. The controller can move the SeaFox close to a suspected mine (using a small sonar unit to assist navigation), then turn on a spotlight for a video cam to examine the object and determine if it is a mine. If it is then SeaFox gets closer and detonates a shaped charge explosive, sending a shaft of hot plasma through the mine destroying it (and the SeaFox).
SeaFox has an endurance of about 100 minutes, a top speed of 10 kilometers an hour, and can dive as deep as 300 meters (930 feet). Operators get to increase their skills and effectiveness using a SeaFox simulator.