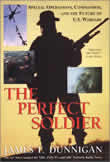 The Perfect Soldier: Special Operations, Commandos, and the Future of Us Warfare by James F. Dunnigan
Sad Sack LPD Sent After Pirates
by James Dunnigan
February 5, 2009
The U.S. amphibious ship USS San Antonio has arrived off the coast of Somalia, to serve as the flagship of the anti-piracy Task Force 151. The San Antonio  is an LPD 17 type vessel. It displaces 24,900 tons and is 684 feet long. It has a crew of 360, and normally 720 marines and all their equipment are carried. For the anti piracy mission, there are only a few hundred specialist personnel embarked, including a platoon of American marines and a platoon of army military police. There is 25,000 square feet for vehicle storage and a 24 bed hospital, with two operating rooms and the ability to set up another hundred beds in an emergency.

Onboard weapons include two Bushmaster II 30mm Close In Guns and two Rolling Airframe Missile (RAM) launchers to defend against anti-ship missiles. The ship is designed to carry and use two LCAC (Landing Craft Air Cushion vehicle), and 14 of the new AAAV (Advanced Amphibious Assault Vehicle), or the current AAV. The MV-22 (Osprey tiltrotor aircraft), as well as current helicopters, can operate off the ships flight deck. Each LPD 17 costs about $800 million. The LPD 17 class replaces four other classes of amphibious ships (LPD 4, LSD 36, LST 1179 and LKA 113). 

Apparently, only three HH-60H helicopters (a seagoing Blackhawk) are on board, and none of the usual amphibious vehicles or hovercraft. However, the San Antonio could handle any of the helicopters used by the 15-20 warships in Task Force 150, as well as UAVs. The San Antonio also has an extensive and very modern CIC (combat information center) for use by Task Force commanders. Communications are excellent as well, including a satellite Internet link. The well deck could accommodate small patrol boats or USVs (unmanned surface vessels used for patrolling).

San Antonio was the first of the class, and had many teething problems. The builders did a sloppy job, and it took a year, and several hundred million dollars, to get everything fixed. San Antonio became available for service late last year. The anti-piracy duty is the first assignment for the San Antonio.