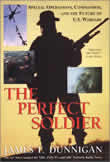 The Perfect Soldier: Special Operations, Commandos, and the Future of Us Warfare by James F. Dunnigan
Magic Drops For Tactical Gloves
by James Dunnigan
October 30, 2013
The latest innovation for combat gloves is a liquid (AnyGlove) that makes the fingers of gloves capable of working on touch screen displays. A bottle of 550 drops costs about $20 dollars and will treat (or re-treat) about ten pair of gloves. Sold to anyone who needs to use gloves a lot and doesn't want to take them off to use a cell phone or tablet, the product became an immediate hit with the military, who use a growing number of touch screen devices at work. AnyGlove first went on sale in late 2012 and was recently accepted for official use by U.S. SOCOM (Special Operations Command). Meanwhile, thousands of troops (around the world) have been buying AnyGlove with their own money. 
What makes AnyGlove so attractive is that it turns existing combat or work gloves into touch screen capable gloves. This is important for combat troops who spend a lot of money on "tactical gloves," often just to get a pair with a new feature. In recent years that has happened frequently, as new models of tactical gloves showed up that were fire resistant, had improved knuckle protection, or provided enough sensitivity to the fingers so that you can keep them on while doing tasks that require finger sensitivity (writing, typing, or manipulating other items of equipment). These gloves cost from $20 to over a hundred dollars a pair. Troops headed for combat tend to buy the best, which are usually the most expensive.
Troops in a combat zone like to take care of themselves any way they can. While a lot of soldiers get wounded by bullets and fragments, far more are injured by hitting elbows, hands, or knees on hard surfaces. This has made kneepads and tactical gloves (especially the ones with hard caps covering the knuckles) very popular in the combat zone. Kneepads and tactical gloves have been around for decades but the large number of American troops engaged in combat during the last decade has spurred an enormous amount of effort to develop better protection for the elbows, knees, and knuckles. Some of the most innovative developments have been with the tactical gloves.