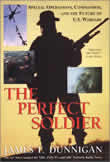 The Perfect Soldier: Special Operations, Commandos, and the Future of Us Warfare by James F. Dunnigan
It Was Too Good To Be True
by James Dunnigan
October 8, 2013
U.S. SOCOM (Special Operations Command) has banned the use of mefloquine (an anti-malaria drug) by its personnel because of side effects (like mood changes, potentially fatal for combat troops). This came after a July warning by the U.S. government (the FDA) for all users (military and civilian) that some of the known short-term problems with mefloquine (like dizziness, loss of balance, and ringing in the ears) might become permanent. In 2011, the U.S. Army put restrictions on the use of mefloquine. That came after the discovery, in 2009, that troops with PTSD (post-traumatic stress disorder) sometimes died after using mefloquine. That was because PTSD sufferers taking mefloquine sometimes suffered much more anxiety and suicidal behavior. This was rare and not noticed before because few, if any, PTSD sufferers took mefloquine or exhibited behavior unusual enough to warrant investigation.
So after four decades of use the U.S. Army is abandoning mefloquine because of these newly discovered side effects. This is not popular with many users because mefloquine has proved to be very effective in dealing with Malaria, which is a debilitating, and sometimes fatal, disease found in most tropical areas. The medications available to prevent it have always been unpleasant, either in terms of taste (no longer a problem) or side effects. These uncomfortable side effects were eventually found to be a major problem for combat troops. Civilian users rarely have these problems unless they are also victims of intense stress. There were too few cases of side effects that could be linked to mefloquine to raise an alarm until the last decade.
The 2009 restrictions led to more intense monitoring of those using mefloquine. That led to an order that troops diagnosed with PTSD could no longer use the mefloquine. This impacted a lot of troops, and prevented them from being sent to some areas (like the Persian Gulf and Afghanistan) where malaria is a risk. The number of troops affected was considerable. In some parts of the world less effective drugs, like doxycycline, could be substituted. But for doxycycline to work troops had to take the pill daily, without fail. The troops don't always do that, partly because of the side effects (digestion problems and additional skin sensitivity) and the press of battlefield business.
The restrictions sharply reduced the use of mefloquine. So far this year only about 3,000 troops and civilians (employees or dependents) used it, compared to over 20,000 for all of 2009. Many civilians and troops who have been in malaria ridden areas frequently prefer to keep using the more effective and convenient mefloquine, and some probably will (buying it themselves and keeping quiet about using it). But for those who have suffered the side effects, or know they may eventually because they now have PTSD, the ban is a blessing.
Mefloquine only had to be taken once a week and has been in use without incident for decades. Other anti-malarial drugs must be taken daily and for many are not as effective as mefloquine. Moreover, mefloquine was never taken, until recently, by a lot of troops who had experienced as many months of combat as those who have been going to Iraq and Afghanistan multiple times since 2001. This caused more cases of PTSD and then many of these found themselves in areas where they had to take mefloquine. The growing number of troops with severe interactions with mefloquine became obvious.
Mefloquine was popular with commanders because the troops did not feel hassled taking a medication once a week, and mefloquine had a reputation for getting the job done with fewer side-effects than alternatives. Now commanders have to deal with the hassles of getting troops to take daily, and less effective, malaria medications. Problems with troops not taking care of themselves are nothing new and have long been a major headache for commanders and NCOs. In past wars, troops were ordered to do certain things to keep themselves healthy, and commanders always faced similar problems with some (often a lot of) non-compliance. In combat, the troops are stressed and have a lot of things to do, all the time, and are often under fire. Lack of sleep creates constant fatigue. So commanders had to accept the additional casualties from troops not using water purification tablets (to avoid drinking water that would make them ill), keeping their feet dry (to prevent skin conditions), wearing their cold weather clothing correctly to avoid frostbite, or drinking enough water in very hot weather to avoid heat related illness, and so on. Now add making sure everyone takes their daily malaria pill.