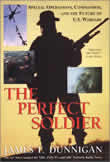 The Perfect Soldier: Special Operations, Commandos, and the Future of Us Warfare by James F. Dunnigan
Increased Activity In The Eastern Pacific
by James Dunnigan
March 3, 2011
In the last seven months, security forces in Colombia and Ecuador have found two fiberglass submarines, built to transport cocaine to North America [PHOTO]. The countries involved, and the United States, are not talking about how many of these subs are out there, or believed to be in operation or under construction. What is known is that the U.S. Navy, in cooperation with some Central and South American navies, is looking for these subs. While these submarines don't run very deep (less than 50 meters/151 feet), they are invisible to radar when completely submerged. But these subs were designed to run on batteries for only a short period of time. When they are at sea, they usually operate their diesel engines. These are noisy. Sonar can pick up this noise over a long distance, and now that two of them have been captured, it's been possible to run the engines and get a sound profile of this type of boat, and equip American sonar systems with this data.

But the most potent weapon the U.S. Navy has against these tiny (less than 34 meters/100 long) subs is heat sensors. One of the two subs captured had a snorkel type device ( a tall structure extending from the conning tower, that contained pipes allowing diesel exhaust to escape and fresh air to be brought into the submerged boat.) It's this heat that airborne sensors can detect. All surface (or semi-submerged) ships at sea display this kind of "heat signature", and capturing working examples of these cocaine smuggling subs makes it possible to get a better idea of what the airborne heat sensors should be looking for.

It was only last July that Ecuadoran police found the first real diesel-electric cocaine carrying submarine. It was nearly completed, and ready to go into a nearby river, near the Colombian border, and move out into the Pacific ocean. The 23.5 meter/73 foot long, three meter/nine feet in diameter boat was capable of submerging. The locally built boat had a periscope, conning tower and was air conditioned. It had a commercial fish sonar mounted up front, so that it could navigate safely while underwater. There was a toilet on board, but no galley (kitchen) or bunks. Submarine experts believed that a five man crew could work shifts to take care of navigation and steering the boat. The boat could submerge to about 16 meters (50 feet). At that depth, the batteries and oxygen on board allowed the sub to travel up 38 kilometers in one hour, or at a speed of 9 kilometers an hour for 5-6 hours. This would be sufficient to escape any coastal patrol boats that spotted the sub while it moved along on the surface (its normal travel mode.) The boat could also submerge to avoid very bad weather. The sub carried sufficient diesel fuel to make a trip from Ecuador to Mexico. There was a cargo space that could hold up to seven tons of cocaine. The sub was built using fiberglass panels fitted over a wooden frame. It was designed by someone who knew how to build boats, and may have worked for one of several firms that now produce "recreational submarines."

The sub was captured where it was being assembled, and a nearby camp for the builders, appeared to house about fifty people. This was the first such sub to be completed, but not the first to be attempted. A decade ago, Russian naval architects and engineers were discovered among those designing and building a similar, but larger, boat. However, that effort did not last, as the Russian designs were too complex and expensive. It was found easier to build semi-submersible craft. But more and more of these are being found.

The other sub was found in southern Colombia earlier this month. Like the first sub, it was not military grade. It could travel submerged, but not dive deep. It was built using the same fiberglass material used for the more numerous semi-submersible craft, but was larger. It probably cost several million dollars to build and was weeks away from completion and sea trials. The drug sub was similar to the small subs being built since the 1970s for offshore oil operations and underwater tourism.

Meanwhile, the semisubmersible boats continue to operate. The Colombian Navy has found and destroyed semi-submersible drug smuggling boats being built in, and operating out of, Ecuador and Colombia. Troops have found workshops, with a nearby  camp (for at least 30 people) that apparently support construction of these boats. In the last two decades, since this type of smuggling "submarine" was first encountered, the Colombian military has captured over 60 of them.

A typical Colombian "semi-submersible" is a 20 meter/63 foot long and 4 meter/12.5 feet wide, fiberglass boats, powered by a diesel engine, with a very low freeboard, and a small "conning tower", providing the crew (usually of four), and engine, with fresh air, and permitting the crew to navigate the boat. A boat of this type is the only practical kind of submarine for drug smuggling. The gangs are enterprising, and have found people able to turn their semisubmersible boats into fully submersible ones.