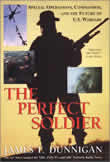 The Perfect Soldier: Special Operations, Commandos, and the Future of Us Warfare by James F. Dunnigan
ISIL Turns Saudi Arabia and Iran Into Allies
by James Dunnigan
August 22, 2014
The growing power of Sunni Islamic terrorist group ISIL (Islamic State in Iraq and the Levant) in the last year has caused the Saudis and Iranians to pause their growing Sunni-Shia feud because both countries have more to fear from ISIL and its rabid brand of Sunni Islamic terrorism than from each other. Signs of this unofficial truce can be seen in several ways. Saudi Arabia has backed off on its anti-Iran propaganda and is quietly cooperating with Iran to deal with ISIL advances in Syria and Iraq. Iran reciprocated when it recently ordered the shutdown of several semi-legal satellite TV channels run by some rabidly anti-Sunni (but high ranking) Shia clerics. The Saudis were not happy with these unofficial satellite TV operations but what prompted the most senior Iranian leaders (the clerics that actually run the Iranian religious dictatorship) to shut these operations down was a complaint from the leader of Hezbollah that this sort of TV programming was making life more difficult for Shia in Lebanon. While Shia Moslems like to believe that their form of Islam is the best one, they also have to live (or die) with the fact that only about ten percent of all Moslems are Shia and 80 percent are Sunni.
The Shia have always been playing defense against the more numerous Sunni and radical Sunni groups like ISIL are particularly dangerous. ISIL (al Qaeda in Iraq and Syria) began as Iraqi Sunni Arab nationalists who lost their jobs, power and wealth when Saddam Hussein and his Baath Party were overthrown in early 2003. Saddam Hussein was a secular dictator, who tolerated Islamic terrorists if they attacked his enemies and behaved while hiding out in Iraq. After Saddam's forces were thrown out of Kuwait in 1991 his policy changed and he declared that he was actually religious and he backed Sunni Islamic terrorist groups as long as they helped him keep the Shia Arab majority of Iraq under control. Sunni Islamic terrorists were willing to do this because Sunni conservatives consider Shia heretics worthy only of torture and death. The Iraqi Shia had staged a major rebellion against Saddam right after Saddam's army get chewed up trying to hang onto Kuwait in 1991. That rebellion festered throughout the 1990s. Saddam and his key associates developed relationships with Sunni tribal leaders and Sunni Islamic terrorist groups, who had for decades been forced to keep their heads down. Once Saddam was out of power in 2003 the Sunni tribes and Islamic terrorists lost the financial and military support Saddam provided for over a decade. The Sunni Arab minority (about 20 percent of Iraqis) also lost control of the Iraq economy and all that oil money. This came as a big shock. Many of these Sunni Arabs wanted their wealth and power back and were willing to do anything to accomplish that task. That led to support for Islamic terrorist groups. The Sunni Arab minority in what is now Iraq has long dominated the area and feels that this domination is a right and a responsibility. They were always wealthier, better educated, more organized and prone to ruthlessness. By merging with Islamic terrorists they acquired the belief they had divine approval for their goals.
ISIL began as ISI (Islamic State in Iraq) in 2004 and was one of many Sunni Islamic terrorist groups operating in Iraq back then. By 2010 ISI was almost destroyed due to U.S. efforts, especially getting many Sunni tribes to turn against the Islamic terrorist groups. But after U.S. forces left in 2011 the Iraqi government failed to follow U.S. advice to take good care of the Sunni tribes, if only to keep the tribes from again supporting the Islamic terrorist groups. Instead the Shia led government turned against the Sunni population and stopped providing government jobs and regular pay for many of the Sunni tribal militias. Naturally many Sunni Arabs went back to supporting terror groups, especially very violent ones like ISI.
After 2011, as the Iraqi Shia were turning on the Sunni Arab minority, there was a rebellion against a minority Shia government in Syria, led by the Sunni Arab majority there. The Sunni tribes of western Iraq were linked by culture and sometimes family links with the Sunni tribes of eastern Syria. The rebellion in Syria got ISI thinking about forming a new Islamic Sunni state out of eastern Syria, western Iraq, Baghdad (historically the seat of Sunni power in the area, despite it now being half Shia) and Mosul. Actually this also includes Lebanon and all of Iraq, but this was kept quiet initially. This decision had ISI spending a lot more time and effort recruiting in western Iraq after 2011. ISIL was created in 2013 when ISI sought to become the dominant rebel group in Syria by persuading men, especially foreigners, from other Islamic terrorist groups fighting in Syria to join a new, united Islamic terrorist group called ISIL. This caused problems because of the harsh way ISIL treated civilians and anyone who opposed them. ISIL relished the publicity their atrocities received. But al Qaeda knew from bitter experience (in Iraq from 2006-2008) that the atrocities simply turned the Islamic world against you. The bad relations between ISIL and all the other Islamic radicals in Syria reached a low point in June 2013 when the head of al Qaeda (bin Laden successor Ayman al Zawahiri) declared the recent merger of the new (since January 2013) Syrian Jabhat al Nusra (JN) with ISIL unacceptable and ordered the two groups to remain separate. That was because the merger was announced by ISI/ISIL without the prior agreement of JN leadership. Many JN members then left their JN faction to join ISIL. JN leaders saw this as a power grab by ISI/ISIL and most of the JN men who left to join ISIL were non-Syrians. Many of these men had worked with ISI before and thought they were joining a more powerful group. A month later al Qaeda declared ISIL outcasts and sanctioned the war against them. By January 2014 this had turned into all-out war between ISIL and the other rebel groups in Syria.
That was not the first time al Qaeda has had to slap down misbehaving Iraqi Islamic terror groups and won't be the last. But it's not a problem unique to Iraq. It is a problem for Saudi Arabia because the Saudis finance al Nusra and some of the other Islamic terrorist rebels in Syria that are now at war with ISIL. To the Saudis such support is the lesser of two evils as ISIL is crippling rebel efforts to overthrow the Assad government. This is also part of the ideological war the Saudis (and most other Sunni Moslems) are fighting with Shia Iran (and its Shia allies the Assads and the Hezbollah militia in Lebanon). Meanwhile the Saudis continue crushing the Sunni Islamic terrorists that try to attack them at home. This includes local members of ISIL. All this sounds somewhat bizarre, with Saudi Arabia funding missionaries that create Islamic terrorists who become uncontrollable and seek to overthrow the rulers of Saudi Arabia. Absurd it may be, but it is a familiar pattern in this part of the world where religion and politics have long been intertwined in absurd and tragic ways.