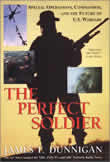 The Perfect Soldier: Special Operations, Commandos, and the Future of Us Warfare by James F. Dunnigan
Chinese Enthusiasm for Area 52
by James Dunnigan
January 27, 2013
Recent Chinese TV coverage of Chinese Air Force training revealed that the code word for the main Chinese training base is "Area 52". This is an interesting shout-out to the U.S. Air Force Tonopah Test Range (also known as Area 52) in Nevada. This has long been the site for testing new aircraft and providing advanced training for fighter pilots. Nearby is Area 51, an even more secretive base used for experimental aircraft and, according to local lore, UFO activity.
What this shows is how much China understands that the only way to achieve victory in the air is to adopt Western pilot training methods. China is doing this in a big way. China is already getting rid of its thousands of old Cold War era warplanes. These were copies of Russian designs and Chinese air force experts noted that no one ever won a war with these aircraft. Since the 1990s China has been acquiring Western-style designs (MiG-29, Su-27/30) from Russia and developing similar aircraft. But these aircraft are only effective if operated by highly trained and experienced pilots. So China has provided the large quantities of fuel and spare parts needed to keep their several hundred modern fighters in the air a lot. This, however, was not enough. The pilots who started out on the old Cold War style aircraft did not become much better when moved to modern fighters, even after a lot of time in the air. Something was missing, and that turned out to be technical education and specialized training in the intricacies of modern air combat. That meant greater use of realistic flight simulators (so very dangerous maneuvers could be practiced). So the Chinese are taking care of all this, including establishing a "pilot university" that provides a four year academic and flight training program. All this closely follows methods and techniques pioneered by the United States.
The Chinese Air Force now has a training unit that will accurately (as possible) portray enemy (especially American and Indian) aircraft and combat tactics. Thus, there are three Blue-Army Aggressor Squadrons (Blue is the bad guys in Chinese training, Red is the good guys) for this. One is equipped with Su-30s, to represent American F-15s or Indian or Vietnamese Su-30s. Another has the J-10A, which is similar to the F-16. The third squadron has J-7s (Chinese copies of the MiG-21), which represent low end threats, like the many MiG-21s India still uses.
Using your own aircraft for "aggressor (or dissimilar) training" began in 1969, when the U.S. Navy established the original "Top Gun" fighter pilot school. This was done in response to the poor performance of its pilots against North Vietnamese pilots flying Russian fighters. What made the Top Gun operation different was that the training emphasized how the enemy aircraft and pilots operated. This was called "dissimilar training". In the past, American pilots practiced against American pilots, with everyone flying American aircraft and using American tactics. It worked in World War II because the enemy pilots were not getting a lot of practice and were using similar aircraft and tactics anyway. Most importantly, there was a lot of aerial combat going on, providing ample opportunity for on-the-job training. Not so in Vietnam, where the quite different Russian trained North Vietnamese were giving U.S. aviators an awful time. The four week Top Gun program solved the problem. The air force followed shortly with its Red Flag school. In the early 1980s, the Russians established a dissimilar air combat school (and began building Western style fighters), and the Chinese followed in 1987.
Over the last four decades the two American training programs have developed differently, and the entire concept of "dissimilar training" has changed. The navy kept Top Gun as a program to hone fighter pilot's combat skills. The air force made their Red Flag program more elaborate, bringing in the many different types of aircraft involved in combat missions (especially electronic warfare).
After the Cold War ended in 1991, it became increasingly obvious that none of our potential enemies was providing their fighter pilots with much training at all. In other words, the dissimilar training for U.S. fighter pilots was not as crucial as it had been during the Cold War. Actually, it had been noted that flying skills of Soviet pilots was declining in the 1980s, as economic problems in the USSR led to cuts in flying time. During that period American pilots were actually increasing their flying time. Moreover, U.S. flight simulators were getting better. American pilots were finding that even the game oriented combat flight simulators had some training value. But now, with China aggressively doing all they can to improve pilot quality, the U.S. has to pay more attention to staying ahead.