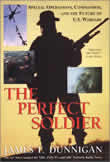 The Perfect Soldier: Special Operations, Commandos, and the Future of Us Warfare by James F. Dunnigan
Bushmaster Fans Can't Get Enough
by James Dunnigan
September 10, 2009
The Netherlands have ordered another 14 Australian made Bushmaster armored trucks, giving them a total of 76. Three years ago, the Netherlands made its first purchase, of 25 Bushmaster armored trucks. These were for its troops in Afghanistan.
Costing $1.3 million each, the Bushmaster is based on a South African design concept, with a V shaped underside, to deflect mine and bomb blast. The 4x4, 15 ton vehicle has a crew of two and carries eight troops in an armored box. The vehicle is protected against 12.7mm machine-gun bullets, and bombs and mines containing up to 21 pounds of explosives. Reactive armor can be added for protection from RPGs. The vehicle has a top road speed of 125 kilometers an hour and a max road range of 1,000 kilometers. Lots of bulletproof glass is used, and in the troops compartment, there are firing ports under the windows. The vehicle carries a gun ring, on a hatch near the front of the crew compartment, that can mount a 5.56mm or 7.62mm machine-gun. The vehicle is a comfortable ride. The Australian army has bought over 300 Bushmasters, and the vehicles are popular with the troops. Many of the Netherlands Bushmasters have a remote (from inside the vehicle) control machine-gun turret.
The Netherlands was so pleased with their initial Bushmaster order, that they quickly ordered more, then more, and more. Apparently, the Bushmaster does the job.