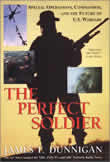 The Perfect Soldier: Special Operations, Commandos, and the Future of Us Warfare by James F. Dunnigan
Making MiGs More Better
by James Dunnigan
September 26, 2008
Discussion Board on this DLS topic
Bulgaria is joining many other nations in upgrading sixteen of their MiG-29s, to improve capabilities, particularly to meet NATO standards. This will cost about three million dollars per aircraft, and extend their service life from the current 25 years, to 40 years.
The MiG-29 entered Russian service in 1983. Some 1,600 MiG-29s have been produced so far, with about 900 of them exported. Bulgaria received its first MiG-29s in 1989, with deliveries continuing into the 1990s. The 22 ton aircraft is roughly comparable to the F-16, but it depends a lot on which version of either aircraft you are talking about.
Russia is making a lot of money upgrading MiG-29s, and handled the Bulgarian work. Upgrades not only add new electronics, but also make the airframe more robust. The MiG-29 was originally rated at 2,500 total flight hours. At that time (early 80s), Russia expected MiG-29s to fly about a hundred or so hours a year. NATO standards require them to be flown at over twice that rate, and now Russia is offering to spiff up the airframe so that the aircraft can fly up to 4,000 hours, with more life extensions upgrades promised. This won't be easy, as the MiG-29 has a history of unreliability and premature breakdowns (both mechanical and electronic). Compared to Western aircraft, like the F-16, the MiG-29 is available for action about two thirds as much. While extending the life of the MiG-29 into the 2030s is theoretically possible, actually doing so will be real breakthrough in Russian aircraft capabilities. The MiG-29 upgrade program is taking several years to complete.