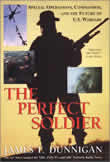 The Perfect Soldier: Special Operations, Commandos, and the Future of Us Warfare by James F. Dunnigan
An Electrifying Innovation
by James Dunnigan
November 3, 2008
Discussion Board on this DLS topic
The U.S. Army has been successful with field tests of the new version of its diesel-electric HEMTT (Heavy Expanded Mobility Tactical Truck). Now it is proposing that the humvee replacement use the same power system.
The U.S. Army began introducing the humvees (or hummers) in 1984. This vehicle design, the first new vehicle design since World War II (when the jeep and ¾ ton truck was introduced), was expected to last for three decades or more. But that plan changed once Iraq was invaded. As expected, hummers wore out a lot more quickly (five years) in combat, than during peacetime use (14 years). So the army and marines are developing, ahead of schedule, a new vehicle to supplement the hummer in combat zones. Designs are being submitted, and the new vehicle is expected to be selected, tested and enter production in five years. The army will buy at least 38,000 of the JLTV (Joint Light Tactical Vehicle), while the marines will buy about 14,000. The JLTV design using the diesel-electric drive, has a roomier vehicle interior, because there is no drive train (each wheel has its own electric motor.) This approach also makes it possible to install fuel cells, which the military is also researching heavily.
The hummer will continue to be used outside of the combat zone, where most troops spend most of their time. But the JLTV will be built to better handle the beating vehicles take in the combat zone, including a design that enables troops to quickly slide in armor and Kevlar panels to make the vehicles bullet and blast proof.
With the proliferation of electronic and electrical equipment on the battlefield, there's a growing power shortage out there. Thus the enthusiasm for the new version of the 13 ton HEMTT. Here, the diesel engine drives a generator, which produces over 100 kilowatts of power. Normally, this electricity runs electric motors that move the truck. But put the truck in park, and the power is available for other uses, like powering a military base in a remote location. Testing has demonstrated that HEMTT A3 is rugged enough for regular army use, and gets about the same fuel mileage as a diesel only system. A diesel-electric JLTV would have the same advantages.
In 2005, a HEMTT A3 prototype was sent to New Orleans, after Hurricane Katrina hit, and provided power for a hospital. If this new "Propulse" technology survives its remaining tests, it will be installed in other models of army trucks as well. This gives the JLTV diesel electric design an edge in the competition to select the model that will go into production, despite the fact that diesel-electrics are 20-30 percent more expensive to manufacture.