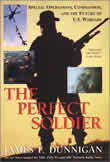 The Perfect Soldier: Special Operations, Commandos, and the Future of Us Warfare by James F. Dunnigan
The Russian Mob Shows Chinese Hackers How It's Done
by James Dunnigan
October 20, 2012
China's Cyber War hackers are getting cocky and careless. Internet security researchers have found identical bits of code (the human readable text that programmers create and then turn into smaller binary code for computers to use) and techniques for using it in hacking software used against Tibetan independence groups and commercial software sold by some firms in China and known to work for the Chinese military. Similar patterns have been found in hacker code left behind during attacks on American military and corporate networks. The best hackers hide their tracks better than this.
It's also been noted that Chinese behavior is distinctly different from that encountered among East European hacking operations. The East European hackers are more disciplined and go in like commandos and get out quickly once they have what they were looking for. The Chinese go after more targets with less skillful attacks and stick around longer than they should. That's how so many hackers are tracked back to China, often to specific servers known to be owned by the Chinese military or government research institutes.
The East Europeans have been at this longer and most of the hackers work for criminal gangs, who enforce discipline, select targets, and protect their hackers from local and foreign police. The East European hacker groups are harder to detect (when they are breaking in) and much more difficult to track down. Thus the East Europeans go after more difficult (and lucrative) targets. The Chinese hackers are a more diverse group. Some work for the government, many more are contractors, and even more are independents who often slip over to the dark side and scam Chinese. This is forbidden by the government and these hackers are sometimes caught and punished, or simply disappear. The Chinese hackers are, compared the East Europeans, less skilled and disciplined. There are some very, very good Chinese hackers but they often lack adult supervision (or some Ukrainian gangster ready to put a bullet in their head if they don't follow orders exactly).
For Chinese hackers that behave (don't do cybercrimes against Chinese targets) the rewards are great. Large bounties are paid for sensitive military and government data taken from the West. This encourages some unqualified hackers to take on targets they can't handle. This was seen recently when one group of hackers were caught trying to get into a high-security network in the White House (the one dealing with emergency communications with the military and nuclear forces).