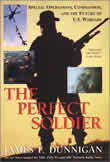 The Perfect Soldier: Special Operations, Commandos, and the Future of Us Warfare by James F. Dunnigan
India Joins The M-777 Club
by James Dunnigan
September 8, 2013
After three years of haggling and internal political debate, India has ordered 145 American 155mm howitzers. The deal took so long because of the corruption problems India encountered with previous purchases of foreign artillery. Buying from the Americans was a safe option because the U.S. is pretty strict about bribes and will often find out about U.S. firms doing it and prosecute. With this purchase India is joining the United States, Canada, and Australia in using the M-777 towed 155mm howitzer. India will pay about $6.1 million each. If the first 145 perform well, India wants to buy another 290. These howitzers will be used by divisions (especially mountain divisions) operating on the Chinese and Pakistani borders, much of which is high in the Himalayan Mountains.
India is particularly attracted by the fact that the M-777 can be moved while slung under a helicopter and quickly reach inaccessible areas. The M-777 is a British design and, at four tons, is the lightest 155mm towed howitzer ever fielded. M-777 Fire control is handled by a computerized system that allows faster response time and more accurate shooting. The M777 can use all current 155mm ammunition, including the Swedish/American GPS guided Excalibur shell. The guided round cuts ammo use enormously. India uses a similar Russian guided shell called Krasnopol but the Excalibur has performed much better in actual use.
The helicopter is the preferred method of moving the M-777 across rough terrain. An M-777 on a mountain top, with a few dozen Excalibur or Krasnopol rounds, provides precision fire support for troops within a 30-40 kilometer radius. Indian land borders are largely mountainous and difficult to reach by land routes, especially for artillery that could not be flown in. The M-777 changes that.