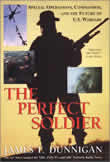 The Perfect Soldier: Special Operations, Commandos, and the Future of Us Warfare by James F. Dunnigan
Dirty Little Secrets
Now There's A Choice: Bullets or Laser?
by James Dunnigan
June 7, 2006
Discussion Board on this DLS topic
American troops in Iraq are being issued another "non-lethal" weapon. This one is an 11 inch attachment to their assault rifles, that projects laser light that can "dazzle," or  temporarily blind and disorient, whoever it is aimed at. The device has an effective range of over a hundred meters and is intended mainly for use by troops manning checkpoints. There, it will sometimes be used, instead of gunfire, to stop, or divert, vehicles that are ignoring orders to halt. This happens quite a lot. About 50-60 times a week, American troops open fire on such vehicles. Dead or wounded Iraqis often result, and most of them are not terrorists. Some of these drivers are confused, or seem to think they just speed through the check point. Iraqi drivers are, even by Boston standards, reckless and unpredictable. 
The choice to use bullets or laser is left up to the troops, as it's a judgment call as to whether the oncoming car might be a terrorist, or a confused driver. Another complication is that one can buy special glasses that defeat the dazzle effect. These are not easy to get, but terrorists could get the special glasses, and equip their suicide bombers with them. 
The troops may find other uses for the dazzler, especially against hostile, but unarmed, crowds.