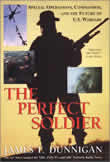 The Perfect Soldier: Special Operations, Commandos, and the Future of Us Warfare by James F. Dunnigan
Dirty Little Secrets
Hornets Given the Eyes of an Eagle
by James Dunnigan
June 14, 2005
Discussion Board on this DLS topic

U.S. Navy aircraft carriers in the Persian Gulf still provide bombers for combat operations in Iraq. Usually it's only one carrier these days. In addition to some patrols over the Persian Gulf, a carrier typically puts 28 sorties over Iraq each day. Each sortie lasts 5-6 hours, and most of that time is spent just circling, waiting for the call from down below. Flight operations usually end at about 1 AM. Even the terrorists don't like to work the pre-dawn hours. Flight operations usually start again just before noon. The carrier takes a break every 14 days, to give the flight and deck crews some time off. 

Few bombs are dropped by these carrier aircraft because, despite breathless media reports of each terrorist attack, there are not that many attacks, and the enemy has learned not to be around right after an attack is made. Any terrorist dumb enough, or unlucky enough, to get into a prolonged fight, will quickly receive a 500 pound smart bomb. And the battle will be over. So the carrier fighters, usually F-18s, sometimes get called on, especially at night, to use the night sensors on their targeting pods, to check out what's going on down below. The F-18s can also fly quite low, as Iraq has been declared a "low threat" zone, because of the infrequency of ground fire. Sometimes the F-18s come in low and hit a target with their 20mm cannon, but most of the time, a 500 pound smart bomb will do the job. 

The call for F-18s to scan the ground below is all because of the new Advanced Targeting Forward-Looking Infrared (ATFLIR). This $1.2 million device, which is considered about five times more effective than earlier models, can clearly see people on the ground from 40 kilometers away, and 6-7 kilometers up. Pilots can see people with guns hiding on roofs, or behind buildings, waiting to ambush approaching coalition or Iraqi troops or convoys. Magnification at night is 30 times, and 60 times during the day. But at night, the ATFLIR gets sharper images because it is sensing differences in heat below. Things cool off rapidly in Iraq after the sun goes down, everything except the few people running around at night. The pilots like using the ATFLIR for this kind of reconnaissance, because they know it saves the lives of troops who would otherwise get ambushed. Unfortunately, there are only enough of the new ATFLIR to equip 20-30 percent of the F-18s on a carrier. So the 429 pound ATFLIR has to be constantly swapped on and off aircraft to keep most of those F-18s on patrol equipped with it. This takes about 45 minutes, and causes more wear and tear on the ATFLIR. Only four ATFLIRs are being produced each month, and it only entered service earlier this year.

Whenever there is a major operation on the ground, the F-18s and their ATFLIR are in demand, because of the combination of clear pictures (on a TV screen in the cockpit) of what is going on down there, and half a dozen smart bombs on board.