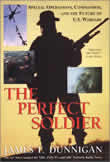 The Perfect Soldier: Special Operations, Commandos, and the Future of Us Warfare by James F. Dunnigan
Dirty Little Secrets
Explosive Armor (ERA) Evolves
by James Dunnigan
April 7, 2005
Discussion Board on this DLS topic
There are more new ways to protect troops from RPGs (Rocket Propelled Grenades), which have accounted for about ten percent of the casualties in Iraq. The RPGs are deadly because they use a type of explosive (shaped charge) that forms a pencil size jet of super hot gas that can burn through several inches of armor. In addition, as the shaped charge detonates, it expels dozens of metal fragments that can also kill or injure. Getting hit by the gas jet can be fatal, or very painful if it just grazes you. 

Armor thick enough to stop rifle and machine-gun bullets, won't stop RPGs. One solution for that is ERA (Explosive Reactive Armor.) Invented by the Israelis in the 1970s, ERA consists of special explosives packaged between layers of sheet metal. When the shaped charge produced hot gas jet hits the ERA explosives, the gas jet is disrupted and rendered harmless by the ERA explosion. Many American M-2 and AAV-7 armored vehicles in Iraq are protected by Israeli ERA kits (which cost over $100,000 each). There is also more expensive ERA available for tanks, which will also reduce the effectiveness of armor piercing shells. But this stuff is even more expensive. Most tanks are immune to RPGs, but vulnerable to larger shaped charge warheads.

There are two shortcomings with ERA. One is that, once a section of it explodes, that section is obviously, no longer protecting the vehicle. It takes 50 or more pieces of ERA to protect a vehicle. The other problem is that, when ERA explodes, it expels some metal fragments that can injure nearby friendly troops. 

There are two new, more expensive, versions of ERA coming on the market to deal with these problems. CLARA has several layers of composites (non-metal material) and explosives which, when they disrupt a shaped charge gas jet, only creates lightweight chaff. CLARA is much lighter than standard ERA, weighing about an ounce per square foot, versus several pounds per square foot for standard ERA. And then there's SLERA (Self Limiting ERA), which uses smaller amounts of explosives to disrupt the gas jet, and less destruction to the section of ERA itself. This also results in lighter ERA. Both these new types of ERA are more expensive, and lack any combat experience.

ERA is not much good for trucks, unless they are armored. ERA is, after all, an explosive, and can only be mounted on armor that will protect the troops inside the vehicle from the ERA explosion.