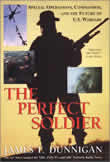 The Perfect Soldier: Special Operations, Commandos, and the Future of Us Warfare by James F. Dunnigan
Dirty Little Secrets
Corporate Recruiters Reeling in Commandos
by James Dunnigan
February 24, 2005
Discussion Board on this DLS topic
Britain wonít say how many SAS commandoes is currently has. The SAS strength is thought to be about 300 operators. But former members say that over a hundred have left in the last few years, to take much higher paying job with security firms. Itís not just the war on terror that is creating these jobs, but the security problems multi-national corporations are having in some countries. Latin America has major problems with kidnapping, and violent crime in general. Africa is also a violent place, and terrorism against foreigners is becoming more common in Persian Gulf countries. Veteran SAS operators can make up to $25,000 a month by using their experience to enhance security for employees in dangerous parts of the world. American commandoes number some 5,000 (Special Forces, Delta Force, SEALs and a few others), and are also suffering similar defections. All SOCOM (Special Operations Command) will say is that they have a hundred more Special Forces operators now, than they did before September 11, 2001. But that is after energetic recruiting, and low casualties on the battlefield.†

SOCOM is now offering re-enlistment bonuses of up to $150,000. Both SOCOM and SAS are appealing to the call of duty to try and get people to stick with it. This is a hard sell with the war on terror going on. SAS and SOCOM personnel are working harder now than ever before. In normal times, there is a lot of training and some traveling overseas. Actual operations were few. Now, there is still a lot of training, but lots more traveling and many more dangerous operations. Commando casualties are still very low, but the workload causes stress, especially for marries commandoes. The appeal of a higher paying civilian job, that includes more time at home, is hard to resist.†

In the long run, commanders are going to either ease up on the tempo of operations, or see more of these experienced operators leave.