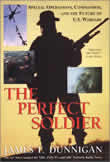 The Perfect Soldier: Special Operations, Commandos, and the Future of Us Warfare by James F. Dunnigan
Dirty Little Secrets





Building Character in the Kitchen


by James F. Dunnigan

Some 40 years ago the U. S. military finally noted that a lot of the traditional work troops did was counterproductive. One of the first examples noted was soldiers attending technical schools who were flunking out because of the "traditional" assignment of the students to KP (Kitchen Police, helping out in the kitchen).

For generations, only a small number of cooks were assigned to units, with troops selected on a rotating basis to help out. When skills needed by soldiers were simple and "training" was pretty much repetition of the same tasks, pulling KP, guard duty and other housekeeping tasks was not a major problem. But as the training became more complex and technical, pulling out students for a few days of KP each month was enough of an interruption to raise the flunk out rate.

Therefore, it was decided to hire civilians to do the unskilled KP work. The troops were quite pleased and more of them completed their technical studies. This began a trend that slowly, very slowly, spread through the military. But there was resistance, as many officers and NCOs felt that this scut work built character and helped integrate new troops into the brotherhood. While there is some truth to this, there are plenty of strenuous chores in a soldier's military duties that can do this.

When the volunteer military replaced the draft in the 1970s, building character with scut work became less of an issue than keeping the volunteers in uniform. Some of the slack was taken up by forming reserve units that could be called up for emergencies. But even this wasn't enough. By the 1990s it became obvious that troops did not join, or stay in, because much of the work was pointless and irritating. In the Navy, there was a lot of stuff like chipping paint and polishing brass. The Army had its own version of these rituals, usually involving several forms of yard work. But overall, there were not enough troops available to keep all the units full. So the trend towards outsourcing scut work intensified.

Outsourcing non-combat jobs is nothing new. Actually, in the past, armies were well staffed with civilians who did the housekeeping, leaving the troops to spend most of their time getting ready to fight. Of course, it didn't always work out that way. If the officers weren't insistent about training, everyone would just take it easy while the servants did all the work. But in well-led armies, the troops trained hard and won battles. Even navies carried boys and women on board to deal with housekeeping and cooking, leaving the men to take care of the sailing, ship maintenance and fighting.

The 20th century got rid of most of the civilians. Nations were wealthier, better organized and had larger populations. With all that wealth and manpower, the civilians could be dispensed with and soldiers used to do all the work. Like most trends, it took several generations for everyone to realize, and agree, that maybe this wasn't the best way to do things. So now the military is outsourcing.

Since only about 10 percent of the folks in uniform ever have to actually fight, and maybe another 30 percent will be in a combat zone or otherwise exposed to the possibility of combat, there's plenty of room for contracting out work. Hardly any troops do KP anymore, except when out in the field. And even that is being reduced by depending on more ready-to-eat foods (think TV dinners).

Military bases use a lot of civilians for security, maintenance and running firing ranges and computer equipment. The Navy has finally realized that sailors don't much like chipping paint at sea. In port, civilians will do this. And there will be fewer sailors at sea. The next generation of warships will use the same automation techniques civilian ships have been using for decades. Weapons have become more automated anyway, with fully automated guns available for several decades. Missiles are loaded in sealed containers, ready to fire.

Food is going the same way, with the few cooks left on ship spending most of their time making sure the prefab munchies are tasty. Most commercial restaurants, except for the high-class and high-priced, have been using automation for more than a generation. Crews will be reduced by over two thirds (less than a hundred sailors for an 8,000 ton destroyer). The only aspect of this that makes crews nervous is the lack of manpower for damage control. When accident or enemy action damages a ship, you need a lot of manpower to stay afloat. Automation moves into uncharted territory.

Computers play a large role in all of this. Traditionally, sailors spent much of their time "standing watch," keeping an eye on things, both equipment failures, hazards of the sea and potential enemies, ensuring that the ship always was ready for combat. This is the major difference between a warship and a civilian vessel. Gradually, computers and sensors have been taking over much of the watch standing. But to get by with one third the traditional crew means much greater dependence on the computers. The first generation of ships going this way is going to have a steep learning curve. But this is always the case when a new type of warship enters service.

Increasingly over the last half-century, more civilian technicians have served at sea, and with military units on land. The best technical people tend to leave the service, and the only way you get them back is as higher paid (and less harassed) civilians. It's always been understood that in wartime, a law could be passed quickly keeping the civilians with their units. No one worries about this any more, except the civilians.

So it's forward to the past. If you can't get them to serve in uniform, put them on the payroll as civilians. It worked in the past, and will work in the future.