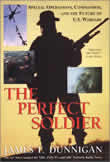 The Perfect Soldier: Special Operations, Commandos, and the Future of Us Warfare by James F. Dunnigan
The Only World War II Aircraft Still In Service
by James Dunnigan
December 23, 2012
On December 12th a South African C-47 transport crashed, killing all eleven on board. What's unusual about this is that the C-47 ("Dakota") is a 1930s design (as the DC-3) that was heavily used during World War II and ever since. Obviously, this involved a lot of upgrades and refurbishment. The SAAF (South African Air Force) extensively refurbished ten of its C-47s in the early 1990s. Each of these "Super-Daks" was modified for a specific mission (5 for maritime patrol, 3 for transport, and 2 for electronic warfare). The one lost on the 12th was a transport model.
Some aircraft seem to fly forever. A prime example has been the DC-3/C-47. The latest revival for this iconic plane is a refurb that creates a 13 ton aircraft with a rebuilt and lengthened fuselage, upgraded wings, new engines, and modern electronics. Called the BT-67, it is in use by eight civilian (including the U.S. Forestry Service) organizations and nine air forces (including the U.S. Air Force and the Chinese Air Force). The BT-67 is about a meter (three feet) longer than the original DC-3 and 1.5 tons heavier. Cruising speed is 380 kilometers an hour, compared to 240 for the DC-3. Range is more than twice the 1,600 kilometers of the DC-3. Typical load for the BT-67 (4 tons) is also about twice what the DC-3 would normally haul. The longer range made the rugged BT-67 capable of delivering airfreight to research stations in Antarctica, from an airport in South Africa. The BT-67s cost about $5 million each.
But there are other refurbs. Six years ago Colombia paid about $20 million to convert five C-47 transports to gunships (armed with night vision sensors, a three barrel 12.7mm/.50 caliber machine-gun, and some bombs). These aircraft carried a five man crew. Such gunships first appeared, using World War II era C-47 transports, in the 1960s over Vietnam. The troops called the gunships, which liked to operate at night, "Spooky."
Many DC-3/C-47 aircraft continue to fly. Several hundred are still operating worldwide, mostly owned by small domestic carriers in the U.S. and by some Third World air transport companies. A state of the art aircraft in the mid-1930s (during which only 500 were built), over 16,000 DC 3's were produced for use during World War II as C-47s. The DC-3 was, in fact, one of the most widely manufactured aircraft of the war.
When allied paratroopers jumped it was usually from a DC-3 (which could carry 28 troops but over sixty people were squeezed in during emergencies). With a maximum range of 3,400 kilometers and a top speed of 296 kilometers per hour, the C-47 was the common cargo carrier (up to 3.5 tons) and general purpose "flying truck." It still is, and more and more of these aircraft are being rebuilt, like the BT-67, to keep them flying for another decade or so.