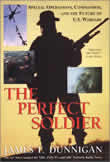 The Perfect Soldier: Special Operations, Commandos, and the Future of Us Warfare by James F. Dunnigan
The Hummer Died For Our Sins
by James Dunnigan
March 28, 2009
The next generation of U.S. battlefield truck will be the seven ton JLTV (Joint Light Tactical Vehicle), which replaces the 2.4 ton HMMWV. This vehicle replaced the 1.1 ton jeep and 3 ton M37 "3/4 ton" truck. The JLTV marks a notable in design direction for tactical vehicles. The JLTV is designed to absorb combat damage, and be quickly equipped with two different armor kits. In effect, the World War II concept of the unarmored light vehicle for moving men and material around the battlefield has been radically changed.

This began in Iraq, where it was  demonstrated that you can fight your way through a hostile population on a regular basis and defeat a guerilla force constantly attacking your tactical and logistical vehicles. This has never worked before, and worked this time, in part, because U.S. troops promptly armored their hummers and trucks, and quickly developed "road warrior" tactics that defeated roadside and suicide bombs. Even though these bombs created a lot of American casualties, the casualty rate was a third of what it was in Vietnam and World War II. Mainly because of the armored hummers and trucks. Few people outside the military noted this event, a watershed moment in military history. But it was recognized within the military, and produced this sharp shift in design philosophy for tactical trucks, and the result is the JLTV.

The U.S. Army began replacing the World War II era vehicles with the HMMWV (humvee or "hummer") in 1984. This was the first new unarmored combat vehicle design since World War II (when the jeep and ¾ ton truck was introduced), and was expected to last for three decades or more. But that plan changed once Iraq was invaded. As expected, hummers wore out a lot more quickly (in five years) in combat, than during peacetime use (14 years). So the army and marines began developing, ahead of schedule, a new vehicle to supplement the hummer in combat zones. Three designs have been selected for development, and in three years one of them will be chosen as the final design and put into production. The army will buy at least 38,000 of the JLTV (Joint Light Tactical Vehicle), while the marines will buy about 14,000.

In addition to being built to better survive mines and roadside bombs, the JLTV will be able to generate 30 kw of electricity (for operating all the new electronic gear, and recharging batteries), have an automatic fire extinguishing system and jam-resistant doors. Like the hummer, JLTV will be easy to reconfigure, for everything from a four seat, armed scout vehicle, to an ambulance, command vehicle or cargo or troop transport.

The hummer will continue to be used outside of the combat zone, where most troops spend most of their time. But the JLTV will be built to better handle the beating vehicles take in the combat zone, including a design that enables troops to quickly slide in armor and Kevlar panels to make the vehicles bullet and blast proof.