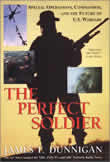 The Perfect Soldier: Special Operations, Commandos, and the Future of Us Warfare by James F. Dunnigan
The Fabulous Fakes Of Afghanistan
by James Dunnigan
February 14, 2011
The fighting in Afghanistan has been of keen interest to small arms collectors and historians. That's because Afghanistan contains thousands of antique rifles, most of them still in use. But most of the several hundred rifles taken from dead, or captured, Taliban each month are AK-47s and other post World War II Russian small arms and machine-guns. But about ten percent are older. Sometimes troops take cell phone photos of the older weapons and send the images to weapons buffs back home, to see if they can trace where the weapon first came from. Collectors, especially of 20th century military rifles, have compiled databases of serial numbers. It wasn't long before the troops got replies asking for another picture of a certain rifle, as its serial number either indicated the rifle didn't exist, or that that number was assigned to a different version of that rifle. These mysteries were eventually cleared up when it was found that these mystery rifles were actually copies, made by the Pushtun gunsmiths who have been doing this sort of thing for over a century. The copies are, on close examination, of somewhat rougher finish than the Western made original, and the stamp of the arsenal and serial number usually made up.

Back before the Russians showed up, in the 1980s, the best an Afghan could hope to have was a World War II, or World War I, era bolt action rifle. These weapons were eclipsed in the 1980s by full automatic AK-47s and the RPG rocket launcher. The young guys took to the AK, and the thrill of emptying a 30 round magazine on full automatic. Not bad for a brief firefight, and suddenly hardly anyone, except a few old timers, wanted to use the old bolt action rifle.

What was not noticed much outside of Afghanistan, was that this shift in weaponry brought to an end a long Afghan tradition of precision, long range shooting. Before the 1980s, this skill was treasured for both hunting and warfare. When doing neither, Afghan men played games centered on marksmanship. One, for example, involved a group of men chipping in and buying a goat. The animal was then tethered to a rock, often on a hill, and then the half dozen or so men moved several hundred meters away and drew lots to see who would fire in what order. The first man to drop the goat, won it. Since Afghanistan was the poorest nation in Asia, ammo was expensive, and older men taught the young boys all the proper moves needed to get that first shot off accurately.

During the 1980s, Saudi Arabia spent billions of dollars to arm Afghans with all the AK-47s and ammo they could use, and they used lots of it. But rarely for target practice. Compared to bolt-action rifles like the British Lee-Enfield, the AK-47 was much less accurate when fired one shot at a time. The old timers, or a few young traditionalists, kept their Lee-Enfields, and made themselves useful picking off Russian soldiers at long distances, on those rare occasions where that was needed.

The Lee-Enfield is one of the oldest, and still widely used, rifles on the planet. Over 17 million were manufactured between 1895 and the 1980s. While there are more AK-47s out there (over 20 million in private hands), these are looked down on by those who use their rifles for hunting, or killing with a minimum expenditure of ammunition. The 4 kg (8.8 pound) Lee-Enfield is a bolt-action rifle (with a ten round magazine) noted for its accuracy and sturdiness. The inaccurate AK-47 has a hard time hitting anything (with a single shot) more than a hundred meters away, while the Lee-Enfield can drop an animal, or a man, at over 400 meters.

There are millions of Lee-Enfields still in use throughout India, Afghanistan, Pakistan, and even Iraq and other Persian Gulf nations. These are largely World War (I and II) leftovers. In the early half of the 20th century, the British gave out millions of these weapons to allies, or those being courted. Noting the accuracy of the Lee-Enfield (.303 caliber, or 7.7mm), the locals came to prize the rifle for hunting, and self-defense. There are still many gunsmiths throughout the region (and at least one factory in India) that will refurbish century old Lee-Enfields to "like new" condition. Cheaper new weapons have made the copies of these classic rifles too expensive to compete, although some old craftsmen will still make copies for wealthy collectors (from all over the world).

One place where the Lee-Enfield found lots of fans was Afghanistan. There, the Afghans had been introduced to rifles in the 19th century, and they treasured these weapons. This was particularly true with the introduction of smokeless powder rifles in the late 19th century. Many Afghans were still using black powder rifles well into the 20th century. But once Lee-Enfields began show up in large numbers after World War I (1914-18), no one wanted the larger, heavier and less accurate black powder rifles (which always gave off your position, with all that smoke, after you fired a round.) Now, wealthy drug lords are buying expensive hunting and sniper rifles for their militias, but so far, many Taliban snipers appear to prefer using grandpa's old Lee-Enfield.

Lee-Enfield ammunition is still manufactured, with the high quality stuff going for a dollar a round, and lesser quality for 25 cents a round. The rifles sell in the West for $500-1,000, but the hand-made copies, made new, go for more than twice that. The Lee-Enfield, both originals and copies, will carry on well into the 21st century.