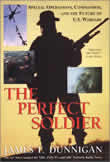 The Perfect Soldier: Special Operations, Commandos, and the Future of Us Warfare by James F. Dunnigan
The Elusive Inexpensive F-16 Clone
by James Dunnigan
January 16, 2011
As expected, China is now offering its new J-10 jet fighter for export. The price is $27 million, which is less than half what a new F-16 costs, but still more than the Chinese JF-17, which goes for $15 million. But there are still hundreds of used F-16s available, for under $15 million each. While the U.S. still has about 1,300 F-16s in service (about half with reserve units), over 4,200 were produced, and America has hundreds in storage. The end of the Cold War in 1991 led to a sharp cut in U.S. Air Force fighter squadrons. Moreover, the new F-35 will be replacing all U.S. F-16s in the next decade. So the U.S. will continue to have plenty of little-used F-16s sitting around, and these remain a cheaper and more effective aircraft than the J-10 or JF-17. But if a country cannot buy F-16s (because of embargos, or similar problems), J-10s or JF-17s would provide a respectable, if more expensive, substitute.

 F-16s are still produced for export, and these cost as much as $70 million each (the F-16I for Israel). Some nations, like South Korea, build the F-16 under license. A used F-16C, built in the 1990s, would go for about $10 million on the open market. The 16 ton F-16 has an admirable combat record, and is very popular with pilots. It has been successful at ground support as well. When equipped with 4-6 smart bombs, it is a very effective bomber.

The J-10 is the first modern jet fighter designed and built in China. The aircraft is an attempt to create a modern fighter-bomber that could compete with foreign designs. The experiment was not completely successful. Work on the J-10 began over twenty years ago, in an attempt to develop an aircraft that would be comparable to the Russian MiG-29s and Su-27s, and the American F-16. But the first prototype did not fly until 1998. There were problems, and it wasn't until 2000 that the basic design flaws were fixed. By 2002, nine prototypes had been built, and flight testing was going forward to find, and fix, hundreds of smaller problems. It was a great learning experience for Chinese engineers, but it was becoming apparent that the J-10 was not going to be competitive with the Su-27s/30s China was buying from Russia. The J-10 looks something like the American F-16, and weighs about the same (19 tons). Like the F-16, and unlike the Su-27, the J-10 has only one engine.

The Chinese made JF-17 (also known as FC-1) is exported to Pakistan, and are being offered to Algeria, Egypt, Nigeria, Bangladesh, Saudi Arabia, Lebanon, Burma, Iran and Sri Lanka as inexpensive alternatives to American and Russian fighters. Hundreds of JF-17s are also going to be built in Pakistan, mainly using Chinese parts.

Last year, Pakistan signed a deal to buy the next 42, of 300, of these jets from China. These 42 will cost $14.3 million per aircraft. The final 250 will cost $12 million each. The aircraft is assembled in both Pakistan and China, with the engines coming from Russia, and most of the other components from China (which calls the aircraft the FC-1).

When the first JF-17 fighter arrived in Pakistan three years ago, it ended over twenty years of development for what was first called the Super 7 fighter. The JF-17 was developed by China in cooperation with Pakistan, which originally only wanted to buy 150 of them. All this came about because Pakistan could not get modern fighters from anyone else, and turned to China. At the time, China had nothing comparable to the early model F-16s Pakistan already had.

The 13 ton JF-17 is meant to be a low cost alternative to the American F-16. The JF-17 is considered the equal to earlier versions of the F-16, but only 80 percent as effective as more recent F16 models. The JF-17 design is based on a cancelled Russian project, the MiG-33. Originally, Pakistan wanted Western electronics in the JF-17, but because of the risk of Chinese technology theft, and pressure from the United States (who did not want China to steal more Western aviation electronics), the JF-17 uses Chinese and Pakistani electronics.

The JF-17 can carry 3.6 tons of weapons and uses radar guided and heat seeking missiles. It has max speed of nearly 2,000 kilometers an hour, an operating range of 1,300 kilometers and a max altitude of nearly 18,000 meters (55,000 feet). China has not yet decided on whether it will use the FC-1/JF-17 itself. This is apparently because China believes its own J-10 (another local design) and J-11 (a license built Russian Su-27) are adequate for their needs. The J-10, like the JF-17, did not work out as well as was hoped, but that's another matter. Meanwhile, Pakistan has one squadron in service, and another being formed.