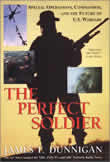 The Perfect Soldier: Special Operations, Commandos, and the Future of Us Warfare by James F. Dunnigan
The Curse Of the M-1 Engine
by James Dunnigan
June 18, 2014
One of the many military programs the U.S. Army has had to cancel because of shrinking budgets was the effort to develop a new engine for the M-1 tank. The army may have to rethink that decision because the increasing expense of rebuilding the aging AGT 1500 engines has made engine costs the major (over 60 percent) of the maintenance expense for M-1 tanks.  While the 1.1 ton AGT 1500 gas turbine engine is compact and provides a lot of speed quickly, it has always required a lot of fuel and, more importantly, maintenance.
Every AGT 1500 has had to be overhauled (removed and rebuilt) several times so far. The last AGT 1500 was built in 1992 and the Army is spending $1.5 billion to constantly rebuild enough engines to keep its M-1s operational. Some 12,000 AGT 1500s were built for 8,800 M-1s and no new ones are available. The army has already invested several hundred million to develop an easier to maintain engine; the LV100-5. This engine has 43 percent fewer parts and requires less than half as much maintenance. It is smaller, lighter, quieter and emits no visible exhaust. But it will cost several billion dollars to put into production. A diesel engine has been proposed but these are twice as heavy, take up more space and produce less power.
The AGT 1500 problems are one reason why the United States Army still owns 7,000 M1 tanks but less than 20 percent of them are actually in service. That's the 1,288 M1 tanks in 92 M1 companies with 14 tanks per company. There are no more tank battalions. Instead there are Combined Arms battalions in Heavy Brigades. Each of these battalions have two tank companies (and two infantry companies). Meanwhile the army is continuing its downsizing, going from 16 armored brigades (64 M1 companies) to ten (40 companies). The Army National Guard still has seven armored brigades (28 M1 companies). The reduction will remove 24 M1 companies leaving 952 M1 tanks in service.
Each M-1 crew has four men, giving the U.S. 3,808 M1 tank crewmen. The army is hustling to retrain all these tank crews for conventional combat. During the last decade many tank companies were used as infantry or to operate MRAP vehicles. The army is using lots of simulators to retrain the tank crews and this cuts costs a lot. These simulators have become more common since the 1990s and have proved to be very effective in quickly and cheaply teaching useful skills to tank crews. After lots of simulator time, the crews perform very effectively when they take the tanks out and do all the moving and firing under realistic (or even combat) conditions.
All those additional M1 tanks are there if there is a major war. With all the simulators it is easier and quicker to train more crews than it is to build more M1 tanks. If the army does not solve the engine problem all those unused M-1s will only be good for spare parts or scrap.