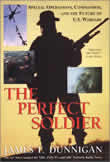 The Perfect Soldier: Special Operations, Commandos, and the Future of Us Warfare by James F. Dunnigan
The Chinese C-17 Rolls Down The Runway
by James Dunnigan
January 30, 2013
Photos from China confirm rumors that the air force there has been developing an air transport similar to the American C-17. The new Chinese aircraft is called the Y-20 and appears to have a max weight of 220 tons and a max payload of 80 tons. In most other respects it appears very similar to the C-17. The Y-20 will likely include many characteristics of the 195 ton Il-76, a Russian heavy transport that can carry up to 50 tons and that the Chinese have been using for decades. The two Y-20 prototypes have been undergoing ground taxi tests, which usually happens within months or up to a year before the first flight.
The C-17 entered service 17 years ago and each one has a useful life of 30,000 flight hours. The 290 ton C-17 can carry up to 100 tons (including one M-1 tank) anywhere in the world because of in-air refueling. The C-17 costs about $250 million each. Britain, with eight, is the largest foreign user of the C-17. Australia and the UAE each have six, while Canada and Qatar each have four. India has ordered ten. The U.S. Air Force operates 203. China does not need that many Y-20s but it does want to get away from depending on Russia for heavy transports. Dealing with Russia can be difficult.
Last year China revived, in part, a 2005 deal to buy Il-76 transports from Russia. The new arrangement only involved China buying ten refurbished Il-76s. Back in 2005, China placed a $1.5 billion order for 38 Il-76 transport planes and Il-78s (tanker versions of the Il-76). A year later China cancelled the deal when Russia tried to up the price 27 percent. China went looking elsewhere, including urging its domestic aircraft manufacturers to come up with something. That process eventually led to the Y-20, but in the meantime China needs some more jet powered military transports.
Similar to the older American C-141, the Il-76 was originally only manufactured in Uzbekistan. That's because one of the Russian aircraft plants moved east during the German invasion of 1941, and ended up in Central Asia, a part of the Soviet Union that became independent Uzbekistan in 1991. Over the last decade Russia has been moving Il-76 production from Uzbekistan to Russia.
Over 900 Il-76s were manufactured over the last thirty years, most by what is now the Chkalov Tashkent Aircraft Production Company in Uzbekistan. Nearly a hundred Il-76s were exported, so far, mainly to Cuba, Iraq, China, India, Libya, and Syria. However, until the 2005 Chinese order came along, Chkalov was surviving by manufacturing wings and other components for the An-124, An-70, and An-225 transports. In addition, it made replacement parts for the Il-76 and Il-114 aircraft.
Russian commercial aircraft survived during the Cold War partly because they had a captive market (the former Soviet Union, the East European nations the Soviets dominated) and were attractive to a few other nations looking for cheap, often free, and rugged aircraft. While many old Soviet transports still serve on in secondary markets, these designs are no longer competitive. Western models, while more expensive, are cheaper and easier to operate. The old Soviet era aviation firms have tried hard to compete but that competition will eventually kill off most of the Soviet era producers, leaving only a few who managed to catch up with the rest of the world or found a specialized niche.
China is no longer interested in buying 38 Il-76/78s but is willing to work with Russia in developing a Chinese replacement for the Il-76. That's the Y-20, which is using Russian engines and much more Russian aviation technology as well.