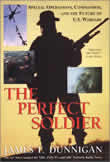 The Perfect Soldier: Special Operations, Commandos, and the Future of Us Warfare by James F. Dunnigan
The Awesome Weapon Of Arabia
by James Dunnigan
November 11, 2010
As expected, Saudi Arabia finally made it official that it is buying 84 U.S. F-15Es. These are special versions of the two-seater F-15E. But what was really interesting was the list of accessories ordered along with the aircraft. These included; 100 M61 Vulcan multi-barrel 20mm cannons, 193 LANTIRN 3rd Generation Navigation Pods, 338 Joint Helmet Mounted Cueing Systems (JHMCS), 462 AN/AVS-9 Night Vision Goggles (NVGS), 300 AIM-9X Sidewinder air-to-air Missiles, 500 AIM-120C/7 AMRAAM radar guided air-to-air missiles, 5,400 smart bombs (GPS and laser guided, 227-909 kg), 400 AGM-84 Block II Harpoon anti-ship missiles, 600 AGM-88B HARM anti-radar missiles, 158 AN/AAQ-33 Sniper Targeting pods, ten DB-110 Reconnaissance Pods, 462 Joint Helmet Mounted Cueing System Helmets. There some other stuff, plus spare engines, technical services and training.

Saudi Arabia already has 70 F-15E from the 1990s. These will be upgraded to the F-15SA standard. Israel protested selling the Saudis such advanced bomber technology, but the U.S. worked this out via secret discussions.

The Saudi F-15SA will be similar to the South Korean version of the F-15E, the F-15K. This is a customized version of the 36 ton U.S. F-15E (a two seat fighter bomber version of the single seat, 31 ton F-15C fighter). Already in service for twenty years, the F-15E can carry up to 11 tons of bombs and missiles, along with a targeting pod and an internal 20mm cannon. The Saudi F-15SA sale is part of a larger, $30 billion arms deal. The Saudis would begin receiving their new F-15SAs in about four years.

The F-15E is an all weather aircraft that can fly one-way up to 3,900 kilometers. It uses in-flight refueling to hit targets anywhere on the planet. For the Saudis this means they can keep these bombers in the air longer, searching for targets. Smart bombs make the F-15E particularly efficient. The backseater handles the electronics and bombing.

The F-15E remains a potent air-superiority fighter, making it an exceptional combat aircraft. This success prompted Israel, Saudi Arabia, South Korea and Singapore to buy it, paying about $100 million per aircraft. In the U.S. Air Force, the F-15E is one of the most popular aircraft for combat pilots to fly, even more so than the new F-22.

Saudi Arabia, and other Arab Gulf states (the UAE, Kuwait, Iraq) have more than tripled their purchases of American weapons over the last five years, as they strive to protect themselves from an increasingly aggressive and hostile Iran. If the Saudis can select qualified men to fly these new aircraft, and afford the high cost of constant training, they will have an awesome weapon to use against any threat.