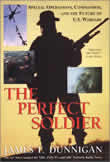 The Perfect Soldier: Special Operations, Commandos, and the Future of Us Warfare by James F. Dunnigan


Iraq is buying nine 35 meter (115 foot) patrol boats from the U.S. builder Swiftship. Each of these ships will cost about $20 million. They are armed with a 30mm autocannon forward and a 12.7mm machine-gun aft (in the rear) and two 7.62mm machine-guns, one on each side of the bridge. The Iraqis had most of the superstructure made bulletproof. These ships have a crew of 25 (including four officers) and endurance of about six days. Top speed is about 55 kilometers an hour. Egypt already operates smaller (25 meter) versions of this design, and are pleased with the performance of these ships.

Iraq has been buying ships from a number of manufacturers. Earlier this year, Iraq made one of its 400 ton offshore patrol boats the flagship of its navy. The Fatah ("Victory"), also known as Patrol Ship 701, had recently completed a five month training program for its crew. The second ship of this class began its training next month. 

The Fatah class vessels are Italian built and based on the Saettia Mk. 4 missile patrol boat. These ships carry a crew of 38 (including a dozen marines for boarding ships). Top speed is about 70 kilometers an hour, and they can stay at sea for about a week. Armament of the Iraqi version consists of a 30mm automatic cannon and two machine-guns.  Iraq paid Italy $27 million for each of these ships, and British Royal Navy instructors trained the crews. Within three years, Iraq will assume responsibility for its maritime security. At that point, foreign warships will only operate in international waters.

Swiftship is also providing training and maintenance support for the ships it is building.