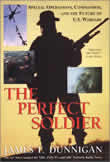 The Perfect Soldier: Special Operations, Commandos, and the Future of Us Warfare by James F. Dunnigan
Smaller Bullet Gets The Longer Shot
by James Dunnigan
May 17, 2010
It was recently revealed that, last November, a British sniper (corporal Craig Harrison) set a new distance record when he killed two Taliban in Afghanistan, at a range of 2,620 meters (8,596 feet). He did this with a L115A3 rifle firing the 8.6mm Lapua Magnum round. The previous record was held by a Canadian soldier, corporal Rob Furlong, who dropped an al Qaeda gunman at 2,573 meters (7,972 feet) in 2002, also in Afghanistan. Furlong, however, was using a 12.7mm (.50 caliber) rifle. These weapons are good at 2,000 meters or more, but weigh twice as much as the 6.8 kg (15 pound) 8.6mm rifles.

Three years ago, the British Army began replacing most of its 3,000 7.62mm L96A1 sniper rifles with one modified to use the .338 (8.6mm) Lapua Magnum caliber round. This Accuracy International "Super Magnum" rifle is basically a L96A1 "Arctic Warfare" rifle modified to handle the larger, 8.6mm Lapua Magnum round. The new rifle (the L115A1) weighed 6.8 kg (without a scope), was fifty inches long and had a 27 inch barrel and a five round magazine.

Snipers in Iraq, and especially Afghanistan, have been calling for a longer range round, but find the 12.7mm (.50 caliber) weapons too heavy. The .338 (8.6mm) Lapua Magnum round has an effective range (about 1,500 meters) about 50 percent greater than the 7.62mm standard NATO round. Like most long range rounds, if the weather (clear) and winds (calm) are right, you can hit targets farther away. Those were the conditions Harrison encountered when he took his three shots (the third one hit the machine-gun the two Taliban were using.)

The 8.6mm round entered use in the early 1990s, and became increasingly popular with police and military snipers. Dutch snipers have also used this round in Afghanistan with much success, and have a decade of experience with these larger caliber rifles. Recognizing the popularity of the 8.6mm round, Barrett, the pioneer in 12.7mm sniper rifles, came out with a 7 kg (15.5 pound) version of its rifle, chambered for the 8.6mm.

Corporal Harrison, a member of the Household Cavalry Regiment, recently returned from Afghanistan. While there, he was lightly wounded by gunfire, and later suffered a broken arm when his vehicle encountered a roadside bomb. It took a while for someone to go double check the distance of his shot, using GPS. He only learned that he broke a record after he returned to Britain last month.