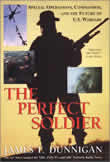 The Perfect Soldier: Special Operations, Commandos, and the Future of Us Warfare by James F. Dunnigan
S-400 Catches Up, For Real
by James Dunnigan
March 4, 2010
Russia activated its first S-400 (also known as the SA-20, Growler or Triumf) anti-aircraft missile system around Moscow. This new version of the S-300 pays particular attention to electronic countermeasures that the Americans might have, or be developing. Two years ago, Russia announced that the first S-400 had entered service around Moscow. But that didn't actually happen, and development work continued. Recent test firings of the missiles were successful, and a battalion is now deployed around Moscow. Each S-400 battalion has eight launchers, each with four missiles, plus a control center and radar. The two year delay allowed more system components to be built, so two more battalions will be in place around Moscow by the end of the year.

The S-400 is similar to the U.S. Patriot, and is expensive. Russia is unsure if they want to export S-400 right away, because of the advanced technology. Meanwhile, work is underway on the S-500, which is scheduled for deployment within five years.

The S-400 missiles weigh 1.8 tons each and are 26 feet long and about 20 inches in diameter. The missiles have a range of some 400 kilometers, and can hit targets as high as 100,000 feet. The missile has a 320 pound warhead. The target acquisition radar has a range of 700 kilometers.

The S-400 has over five times the range of the U.S. Patriot, weighs twice as much and claims the ability to detect stealthy aircraft. The S-400 also has an anti-missile capability, which is limited to shorter range (3,500 kilometers) ballistic missiles. That would mean a warhead coming in at about 5,000 meters a second (the longer the range of a ballistic missile, the higher its re-entry speed.)

The S-400 system actually has two missiles, one of them being a smaller, shorter range (120 kilometers) one. The S-400 has no combat experience, but U.S. intelligence believes that the tests these systems have undergone indicate it is a capable air defense weapon. Just how capable won't be known until it actually gets used in combat.

Russia plans to buy up to 200 launchers (each with four missiles) by 2015, and phase out the older S-300 and S-200 systems. This would mean deploying at least 18 battalions in the next six years, and perhaps more than twenty. The S-400 is sometimes described as an improved version of the S-300. Basically, it is. This is how Russia prefers to develop weapons, making incremental improvements on a basic design, and doing so for decades if the system continues to be successful.