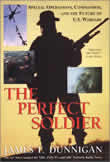 The Perfect Soldier: Special Operations, Commandos, and the Future of Us Warfare by James F. Dunnigan
Russia Battles Incompetent Shipyards
by James Dunnigan
July 1, 2013
The Russian government is taking over more of the shipbuilding industry. The government owned UGC (United Shipbuilding Corporation) currently controls 39 shipyards that account for 70 percent of commercial shipbuilding. The government is taking over more of them, especially those that produce warships, mainly because of bad management and corruption which results in the navy not getting what it wants and often getting ships that are unreliable and poorly built. This problem will get worse as the Russian Navy spends $166 billion to get 24 submarines and 54 surface ships by the end of the decade. The navy wants better quality and to that end the government has been urging (without much success) Russian shipyard managers to seek out and implement foreign technology. Soviet era managers have long resisted this, out of pride, laziness, corruption, and fear (of dealing with the unfamiliar).
The corruption reached crises proportions two years ago, when Russian shipyards refused to build submarines for the Russian Navy. This was the result of the government trying to rein in rapidly rising prices charged for military equipment. Actually, this was part of a larger battle against corruption, or suspected corruption, in Russian defense procurement.
The situation put the Defense Ministry in a difficult position, as the Russian Defense Minister was caught between conflicting orders. The government was trying to reduce corruption in the military and ordered the Defense Ministry to make it happen. But in doing that, the ministry withheld payment to many military suppliers because these firms refused to explain why prices had suddenly increased. That created problems with the government, which was also demanding that defense industries produce the quantities of weapons agreed on and according to promised delivery dates. That was not happening as long as the Defense Ministry was putting contracts on hold to deal with corrupt practices. The government ultimately backed whatever the Defense Ministry wanted, and this ended up with submarine builders threatening to close shop.
Aircraft and missile manufacturers had agreed to lower their prices, but the submarine builders claimed they could not control their own rising costs. They pointed out that they would lose money if they received less than $1.6 billion for the first of the Graney class SSGNs (nuclear powered cruise missile sub). The second one was costing $3.5 billion, and the government wanted a lot more details before they paid. The government pointed out that this was more than twice what the new, and larger, Borey SSBNs cost. The government suspected dirty dealing.
The shipyards said they would not be able to continue operating if the government did not pay what the builders were asking. The government believed the higher costs are the result of inefficiency and mismanagement, as well as antiquated shipbuilding facilities. Ultimately the government sent in its own experts and began taking over more shipyards and sorting out all the problems. That process is still going on.