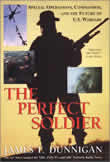 The Perfect Soldier: Special Operations, Commandos, and the Future of Us Warfare by James F. Dunnigan
Rumble Over Russian Aircraft Reliability
by James Dunnigan
March 10, 2013
The Indian Air Force lost another of its Russian made Su-30MKI jet fighters on February 20th. This is the fourth loss since 2009. Two years ago the commander of the Indian Air Force took an hour-long flight in one of India's Su-30MKI to reassure Indian pilots that the Su-30MKI was safe. Two had crashed in 2009, due to mechanical failures and there were widely publicized reliability problems with the engines and many of the other Russian designed and built components of the aircraft.
Indian pilots are understandably nervous about the safety of the many Russian warplanes they fly. The MiG fighters are the most dangerous but the more recent Su-30 models were believed to be a lot safer. Recent problems indicate this may not be the case, thus the 2011 flight by the head of the air force.
The MiGs are still crashing, with a MiG-27 going down on February 12th. India has lost so many MiG-21 fighters that it is trying to retire this type of aircraft as quickly as possible. Over the last half century, India has bought 976 MiG-21s and over half are gone, mostly because of accidents. While India was something of an extreme case in this area (other users don't fly their MiG-21s as much), it's been typical of MiG aircraft. All this is part of the decline of the once feared, and admired, MiG reputation. Starting in World War II (the MiG-1 entered service in 1940), through the Korean War (the MiG-15 jet fighter), and the Cold War (the MiG-17/19/21/23/27/29), MiGs comprised the bulk of the jet fighters in communist, and Indian, air forces. But after the Cold War ended in 1991, the flaws of the MiG aircraft (poor quality control and reliability, difficult to fly) caught up with users, in a big way. In the last few years most of the bad news about military aircraft reliability, accidents, and crashes has involved MiG products. For example, all Indian MiG-27s have been grounded several times in the last few years because of suspected mechanical problems. These fears are not new. The MiG-27 and Cold War era Russian warplanes in general do not age well.
Last year India went public with yet another complaint about the Russian made Su-30 fighters. That was about an unspecified "design flaw" in the electronic flight control system for the aircraft. This bit of information was made public because India found that more discreet communications about these matters results in little or no action from the Russians. For example, India has been pressuring Russia for several years to do something about component failures in the Russian designed AL-31 engines that power the Indian Su-30MKI jet fighters. There have been several AL-31 failures because of this in both Indian and Russian Su-30s. The latest accidents indicate that the problems remain.