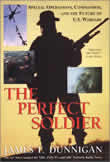 The Perfect Soldier: Special Operations, Commandos, and the Future of Us Warfare by James F. Dunnigan
Low, Fast And Out Of Control
by James Dunnigan
September 25, 2012
September 12, 2012: In late August a video began appearing on the Internet showing a Su-24 fighter-bomber [VIDEO] flying above a highway in southern Russia, at an altitude of under 100 meters (310 feet). By the end of August military prosecutors said they were on the case. But TV interviews of former Russian pilots said training was often done at low altitudes, as that was how you could avoid being detected by anti-aircraft radar. But this sort of thing is not supposed to be done in populated areas, especially in a Su-24. That's because these aircraft are very old and are crashing more often. One went down last February 13th, and the next day all Russian Su-24s were grounded until the cause of the crash could be determined. This sort of thing is becoming increasingly common. In the last 12 years Russia has lost sixteen Su-24s to accidents. Many more have been retired because of old age. This is one of the reasons Russia is hustling to replace the Su-24s with Su-34s.
It was only four years ago that Russia began building the first (of 20) Su-34 fighter-bombers. These are now replacing the 43 ton Su-24s. The 45 ton Su-34 is yet another variant of the 33 ton Su-27 and is very similar to the 36 ton U.S. F-15E (a two seat fighter-bomber version of the 31 ton F-15C). But Russia still has about 400 Su-24s in service and only twenty Su-34s. It appears that the new Su-34s will not arrive quickly enough to replace most of the elderly Su-24s.
The Su-34 has a full set of defensive and offensive sensors (radars, targeting cameras, laser designators) and electronic warfare gear. It also can carry eight tons of missiles and smart bombs. Russia is currently planning to get 58 Su-34s to replace 300 older Su-24s (most of these are not fit for service). Russia is building the first 24 Su-34s at a cost of $36 million each (less than half the cost of an F-15E).
Meanwhile, some of the more recently built Su-24s were upgraded as the Su-24M2 standard. Most of the Su-24s built are over 25 years old and many have been grounded several times recently because of age related problems. The Su-34 has been in the works for several years and earlier versions of two-seater Su-27 bombers were known as the Su-32.