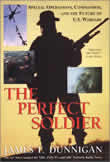 The Perfect Soldier: Special Operations, Commandos, and the Future of Us Warfare by James F. Dunnigan
Little Silent Spies That Glide Underwater
by James Dunnigan
March 8, 2011
The U.S. Navy is testing a mini-submarine (AUV, or Autonomous Undersea Vehicle) that is silent, very small (two meters/six feet long and weighing 59 kg/130 pounds) and operates completely on its own. What this AUV does is spend weeks at a time moving slowly (3 kilometers an hour) underwater, collecting data on salinity and temperature, and transmitting back, via a satellite link every hour or so. This data improves the effectiveness of sonars used by friendly forces, making it easier to detect and track enemy submarines. These AUVs can dive as far down as 2,000 meters (6,200 feet).

These AUVs use a unique form of propulsion. They have wings, and a small pump, that fills and empties a chamber. This changes its buoyancy, causing it to glide down, then back up. This maneuver moves the AUV forward. Equipped with GPS and a navigation and communications computer, the AUV is programmed (or instructed via the sat link) to monitor a particular area. The small pump uses less electricity than a propeller (to move it at the same speed).

These AUVs can be launched (and recovered) from ships or shore. Two years ago, an AUV of this design crossed the Atlantic on its own, as part of a civilian research project. The navy plans to buy at least a hundred of these subs, to replace surface ocean survey ships currently used for this kind of work. Unlike the survey ships, these AUVs could be deployed in areas where hostile subs are believed to be operating, and be kept at it as long as needed. If successful in regular use, larger versions are planned, equipped with more sensors and longer duration.