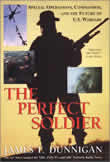 The Perfect Soldier: Special Operations, Commandos, and the Future of Us Warfare by James F. Dunnigan
Hezbollah Gets SCUDS
by James Dunnigan
November 11, 2009
Arab media in the Persian Gulf have been reporting that Syria, apparently on the orders of Iran, has turned over about 300 long range ballistic missiles to Hezbollah control. The missiles have apparently not left Syria (they would be hard to miss, being driven around southern Lebanon). The reports add that Hezbollah personnel are being trained to operate the missiles.
Syria has underground storage and launch facilities for its arsenal of over a thousand SCUD missiles. Armed with half ton high explosive and cluster bomb warheads, the missiles have ranges of 500-700 kilometers. Syria also has some 90 older Russian Frog-7 missiles (70 kilometer range, half ton warhead) and 210 more modern Russian SS-21 missiles (120 kilometer range, half ton warhead) operating with mobile launchers. There are also 60 mobile SCUD launchers. The Syrians have a large network of camouflaged launching sites for the mobile launchers. Iran and North Korea have helped Syria build underground SCUD manufacturing and maintenance facilities. The Syrian missiles are meant to hit Israeli airfields, missile launching sites and nuclear weapons sites, as well as population centers. Syria hopes to do enough damage with a missile strike to cripple Israeli combat capability. Hezbollah is more interested in killing civilians, and would aim their missiles at Israeli cities.
 Israel has long been aware of the Syrian missile capabilities and any war with Syria would probably result in some interesting attacks on the Syrian missile network. The SCUD is a liquid fuel missile and takes half an hour or more to fuel and ready for launch. So underground facilities are a major defensive measure against an alert and astute opponent like Israel. In the past, Israel has threatened to use nukes against anyone who fired chemical weapons at Israel (which does not have any chemical weapons).
Over the last year or so, the Israeli government has been passing around, to local governments, a war planning document. This study assumes a future war with Syria, and gives the local officials an idea of what to expect. Currently, the Israelis estimate that there would be as many as 3,300 Israeli casualties (including up to 200 dead) is Syria tried to use its long range missiles against Israel. If the Syrians used chemical warheads, Israeli casualties could be as high as 16,000. Over 200,000 Israelis would be left homeless, and it's believed about a 100,000 would seek to leave the country. Hezbollah apparently wants to be part of this, or maybe Iran just ordered the whole thing.