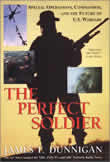 The Perfect Soldier: Special Operations, Commandos, and the Future of Us Warfare by James F. Dunnigan
Fumes And Frustration Send Oz Army Chopper Pilots Fleeing
by James Dunnigan
January 3, 2013
Australian Army helicopter pilots have refused to fly their new Tiger armed reconnaissance helicopters because of the army's refusal to ground their 22 Tiger's until a permanent fix is found for a recurring problem with fumes getting into the cockpit. The army does not consider this a major problem. The fumes are usually caused by the failure of electronic components. There have been three fume incidents so far this year and 24 since the Australian Tigers entered service five years ago.
The pilots are not just upset over the fumes. In the last year 22 army helicopter pilots have quit the service to take more lucrative jobs in industry (which pays twice as much for fewer hours). At least two dozen more pilots are in the process of leaving the military. The fumes problem is making it easier for pilots to decide to leave the military for a career as a commercial pilot. The growth in offshore oil and gas drilling has increased the demand for helicopter pilots and military ones are favored for this kind of work. It's not just helicopter pilots the military is losing but all manner of technical personnel. The Australian economy has been booming for several decades as China seeks out raw materials that Australia has an abundance of. Australia also has a well-educated and hard working population well suited for the high tech jobs mining and drilling requires. It's machines these days, not men going in and pulling the ore out by hand. The machines need operators and maintainers. The military and raw materials industries are recruiting from the same population and the military is losing.
While commercial flying is more lucrative, military flying is, well, more exciting. The seven ton Tiger helicopter has a crew of two and a max speed of 280 kilometers an hour. It cruises at 230 kilometers an hour and usually stays in the air about three hours per sortie. It is armed with a 30mm automatic cannon, 70mm rocket pods (19 rockets per pod), and various types of air-to-ground missiles (eight Hellfire type missiles can be carried). It can also carry four Mistral anti-aircraft missiles.
Development of Tiger began in 1987, before the Cold War ended, and only began entering service nine years ago. The Tiger costs about as much as the AH-64 Apache and was developed to emulate the success of the Apache (which entered service in 1984).
France has bought 80 Tigers, Spain 24, and Australia 22. The eight ton AH-64 has been in service for 25 years and nearly 1,100 have been built so far. Several nations are using AH-64s in Afghanistan, with great success. Three French Tigers flew over 1,000 hours in Afghanistan.