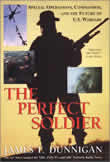 The Perfect Soldier: Special Operations, Commandos, and the Future of Us Warfare by James F. Dunnigan
Chinese Iron Marches On Russia
by James Dunnigan
March 23, 2013
March 11, 2013: China is offering to build new railroads into Central Asia. This is part of a $300 billion plan to upgrade and expand Chinese railways over the next two decades. Chinese businesses are investing more billions to create new businesses in Central Asia and the cheapest way to get goods in or out of this landlocked area is via rail. For over a century Russia had a monopoly on rail access to Central Asia, largely because most of the region (Uzbekistan, Kazakhstan, Turkmenistan, Tajikistan, and Kyrgyzstan) was part of the Russian empire or the Soviet Union. After the Soviet Union dissolved in 1991, most of Central Asia became independent states. Russia has maintained economic links with these new states, but the Chinese economy is more than four times the size of Russia's. China has more need and means. While the Chinese railroad system is only a third in size (behind the U.S. and Russia) it is the first in traffic worldwide. A booming economy and lack of highways have created a demand in China for a more efficient rail system. As a result, the Chinese system is one of the youngest on the planet. Central Asian politicians and businessmen have been impressed by Chinese railways and see them as a welcome addition to their own region.
Russia is offering to build more railways into Central Asia and help upgrade the local railways there. Russia has an edge because those railroads were built by Russians and long run by Russian trained personnel. Russia sees itself as defending a trade monopoly it long enjoyed. Yet the Central Asian states are no longer part of Russia and more than willing to entertain competing bids.
Something Russia does not like to discuss openly is the fact that Chinese railroads extending into Central Asia would make it easier for China to carry out major military operations in the area. With rail lines extending deep into Central Asia China could more easily threaten a long feared invasion of Russia to take back the eastern territories that many Chinese believe are theirs. Such an invasion is unlikely as long as Russian nuclear weapons can hit China (via missile or bomber). But if that threat were diminished, a rail network in Central Asia that is connected to China would be a much more fearsome prospect for Russia. In the meantime, such a railroad is going to hurt the Russian economy because Chinese firms will have cheaper access to Central Asia and will likely drive out more expensive Russian products.