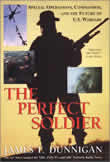 The Perfect Soldier: Special Operations, Commandos, and the Future of Us Warfare by James F. Dunnigan
China Goes All In With The Z-10
by James Dunnigan
January 15, 2013
China's new Z-10 helicopter gunship is apparently in mass production. In the last year the Z-10 has been photographed serving with four of the five aviation brigades in the army. There is a squadron (12 helicopters) of Z-10s in each brigade. The move to mass production of the Z-10 was a surprise because this aircraft has been in development for over 14 years and the several prototypes encountered numerous problems. This led to failed attempts to buy or steal helicopter gunship technology from Russia and South Africa.
Two years ago some of the Z-10 prototypes were sent to Chinese Army aviation units for field testing. While not a failure, the newer and lighter Z-19 was apparently seen as a better candidate for mass production. Work continued on the Z-10 because the Z-19 is basically an armed scout helicopter. China always wanted something more like the American AH-64 Apache. That would be the Z-10, at least once all the development problems were overcome. The seven ton Z-10 is smaller than the 10 ton AH-64 and also has a crew of two. The Z-10 is armed with 30mm autocannon and can carry up to a ton of rockets or missiles.
For three years now the Z-19 armed scout helicopter has been spotted in the air, most recently painted in military colors. The Z-19 was earlier known as the Z-9W. The Z-19 is yet another Chinese helicopter based on the Eurocopter Dauphin (which has been built under license in China for two decades). The Z-19 is a 4.5 ton, two seat armed helicopter. It can carry a 23mm autocannon and up to half a ton of munitions (missiles, usually). Cruising speed is 245 kilometers an hour and range is 700 kilometers. The Z-19 is basically an upgraded Z-9W.