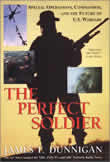 The Perfect Soldier: Special Operations, Commandos, and the Future of Us Warfare by James F. Dunnigan
Brazil Shows China How It Is Done
by James Dunnigan
February 10, 2013
It was rather surprising to Westerners that China managed to get jet aircraft operating from their new aircraft carrier (the Liaoning) last November just two months after the ship was commissioned (on September 25th). Training of carrier pilots began nearly a decade earlier but perhaps the smartest move the Chinese made was to arrange for Brazil to have its carrier sailors show the Chinese how it's done. This was particularly important in the case of how the deck sailors on a carrier operate to get aircraft ready for takeoffs and how the air control specialists in the carrier "island" handle landings. While Russian carrier expertise was for sale, the Chinese wanted to learn how Western navies did this, since carrier operations were invented in the West a century ago.
Four years ago Brazil agreed to this deal so that Chinese sailors could learn carrier operating skills on the Brazilian Navy's carrier, the "Sao Paulo." It was 13 years ago that Brazil bought the 32,000 ton French aircraft carrier Foch (which was still in service) for $12 million, updated it, and renamed it "Sao Paolo". The navy has not been able to get much cash out of the government to further refurbish the 51 year old Sao Polo, and apparently the Chinese deal will change that.
The 33,000 ton "Sao Paolo" was headed for decommissioning and has been used mainly to train carrier pilots when Brazil bought it. The "Sao Paolo" entered service in 2000, and the Brazilians retired the 20,000 ton "Minas Gerais", a World War II era (British) Colossus Class carrier, a year later (after 40 years of service). So the Brazilians have a long tradition of carrier operations and sufficient experienced carrier sailors to teach the Chinese some useful things. Brazil has long been the only South American nation to operate a carrier. The Sao Polo has a crew of 1,900 and was designed to carry 35 warplanes (smaller, older models like the A-4) and four helicopters. This load can vary depending on aircraft type.
The first Chinese aircraft carrier, the Liaoning is a 65,000 ton, 305 meter (999 feet) long ship that had spent over a year on sea trials. During that time Liaoning was at sea for about four months. This was all in preparation for flight operations. Last year China confirmed that the Liaoning will primarily be a training carrier. The Chinese apparently plan to station up to 24 jet fighters and 26 helicopters on the Liaoning and use the ship to train pilots and other specialists for four or more additional carriers that are to be built.
Six years ago the Chinese Navy Air Force began training carrier fighter pilots (or "aviators" as they are known in the navy). In the past Chinese navy fighter pilots went to Chinese Air Force fighter training schools, and then transferred to navy flight training schools to learn how to perform their specialized (over open water) missions. Now, operating from carriers and performing landings and take-offs at sea has been added to the navy fighter pilot curriculum. The first class of carrier aviators has finished a four year training course at the Dalian Naval Academy. This included learning how to operate off a carrier, using a carrier deck mock-up on land. Landing on a moving ship at sea is another matter. The Russians warned China that it may take them a decade or more to develop the knowledge and skills needed to efficiently run an aircraft carrier. The Chinese are game and are slogging forward. The first landing and takeoff was apparently carried out in calm seas. It is a lot more difficult in rough weather (when the carrier is moving up and down and sideways a lot) and at night. The latter, called "night traps", is considered the most difficult task any aviator can carry out, especially in rough weather.