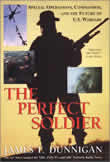 The Perfect Soldier: Special Operations, Commandos, and the Future of Us Warfare by James F. Dunnigan
Australian Navy Moves To Japan
by James Dunnigan
May 29, 2013
Australia and the U.S. are reviving a custom from World War II, in which Australian warships operate as part of American task forces. An Australian frigate, HMAS Sydney, is moving its home port to Japan, where it will operate as part of an American carrier task force. This may be the last assignment for the HMAS Sydney, as all Adelaide class ships are to be replaced by the end of the decade. A new Hobart class frigate called HMAS Sydney is scheduled to enter service in 2019. The current HMAS Sydney has been in service for three decades.
The Sydney is one of six American Perry class frigates Australia bought in the 1980s (two were built in Australia) and modified for Australian requirements as Adelaide class ships. Four of these ships are still in service. These 4,100 ton ships carry anti-aircraft and anti-ship missiles, six anti-submarine (324mm) torpedoes, one 76mm gun, one 20mm Phalanx anti-missile autocannon, and two helicopters.
Sending the ship to be based in Japan also provides an opportunity to develop closer ties with the Japanese Navy. This is all part of an Australian effort to increase its ability to operate with allied navies in the face of growing Chinese naval power and aggressive use of that larger fleet.