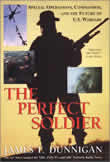 The Perfect Soldier: Special Operations, Commandos, and the Future of Us Warfare by James F. Dunnigan
Troops Angry At Media Bias and Laziness
by James Dunnigan
August 5, 2008
Discussion Board on this DLS topic
American troops in Afghanistan are not happy with how a July 13th battle with the Taliban was reported. In that action, some 200 Taliban attacked a U.S. "base" and killed or wounded more than half the 50 or so U.S. and Afghan troops found there. Actual U.S. casualties were nine dead and fifteen wounded (including walking wounded).
U.S. troops were irked that, once again, the mass media got lazy and didn't bother to report the action accurately. For one thing, there was no "base". What the Taliban attacked was a temporary parking area for vehicles used to conduct patrols of the area. These are set up regularly, and have been used for years. These are secure areas, but basically a parking lot surrounded by barbed wire and several sandbagged observation posts. This one was set a few days before the attack, and was due to be taken down soon, as the patrol activity moved to another area.
Such defensive precautions are taken any time U.S. troops stop for more than a few hours. That's a tactic pioneered by the Romans over two thousand years ago. In this case, it paid off. The Taliban infiltrated several hundred fighters into a nearby village, and opened fire from homes, businesses and a mosque. The U.S. and Afghan troops called in air support and kept fighting until the Taliban fled, taking most of their dead and wounded with them.
The troops are angry because, while the Taliban got lucky (such attacks are rare), the enemy did not succeed in taking the U.S. position, and fled the battlefield after suffering heavier casualties. The U.S. troops are much better shots, and know they killed far more of the Taliban. Moreover, they saw smart bombs and missiles hitting buildings that Taliban were firing from. From long experience, they know that people inside bombed buildings rarely survive the explosion.
Finally, the troops involved were from the 173rd Airborne Brigade, and paratroopers do not like anyone implying they were beaten at anything. Especially because, in this case, they weren't.