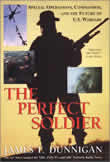 The Perfect Soldier: Special Operations, Commandos, and the Future of Us Warfare by James F. Dunnigan
Russia Takes A Beating Over Georgia
by James Dunnigan
August 24, 2008
Discussion Board on this DLS topic
While Georgian ground forces have been pushed around by the recent Russian invasion, Georgian air defenses have been noticeably more effective. The Russians have admitted to losing four aircraft (three Su-25 ground attack bombers and a Tu-22 bomber flying a reconnaissance mission.) Most, or all, appear to have been brought down by the SA-11 BukM1 surface-to-air missile systems (obtained from Ukraine).
The SA-11 is the successor to the SA-6, which did so much damage to the Israeli Air Force during the 1973 war. The SA-11 launchers are self-propelled and carry four 1,500 pound missiles. The missiles have a 30 kilometer range, and can hit aircraft at up to 72,000 feet. The missiles move at about 2,900 kilometers an hour. The battery radar, which is also self-propelled, can detect aircraft at up to 85 kilometers away. The system can be set up and ready to fire in five minutes. The missile has a 150 pound warhead, that is triggered by a radar proximity fuze.
The Georgians also have some Tor-M1 systems, also obtained from Ukraine. Also known to NATO as the SA-15 Gauntlet, it has a maximum range of 12 kilometers. It is only effective up to 6,000 meters altitude. The system was designed as a successor to the SA-N-8 Gecko. Each launcher carries eight missiles, and it is claimed to be capable of engaging two targets simultaneously. The system was designed to be a tactical battlefield air-defense system, designed to take out close-air-support planes like the A-10 or tactical fighter-bombers like the F-4, F-16, and F-18.
Georgia claims to have downed ten Russian aircraft as of August 11th, and the true air losses won't be known until photos appear of all the aircraft wreckage. It is interesting that Russia was unable to come up with effective countermeasures against missile systems they had designed. The Russians knew of Ukrainian arms exports to Georgia, and the presence of the SA-11s and SA-15s. This is another mystery that will only be explained over time.