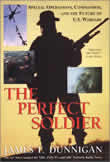 The Perfect Soldier: Special Operations, Commandos, and the Future of Us Warfare by James F. Dunnigan
Lightweight Mayhem
by James Dunnigan
July 13, 2008
Discussion Board on this DLS topic
Another small air-to-ground missile has been developed for UAV use. This one, from Raytheon (for a customer they won't name) is 130mm in diameter, laser guided, weighs 45 pounds, has a range of six kilometers and a nine pound warhead. The idea is to carry two or three in place of one Hellfire.
Earlier this year, a British firm announced the LMM (Lightweight Multirole Missile). Weighing 29 pounds, with a range of 8 kilometers and carrying a 6.5 pound fragmentation warhead, the LMM also uses laser guidance. Hellfire missiles, the current favorite for Predators, weigh a hundred pounds each, and have 20 pound warheads (about half of which is explosives).
Another light weight contender is the laser guided 70mm rocket with a six kilometer range and a six pound warhead. This weapon is based on an unguided rocket of the same size, that has been in wide use since World War II. The U.S. Army is using the guided version from helicopters. The new helicopter missile racks each hold four Hellfire missiles, or sixteen 70mm guided missiles Alternatively, each rack can hold eight 70mm guided rockets and two Hellfires. The racks can be used on the AH-64, AH-1Z, Tiger or the SH-60B helicopters. Each rack weighs 145 pounds. Loaded with missiles, the rack weighs 500-600 pounds. Attack helicopters usually carry two of these racks.