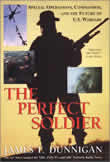 The Perfect Soldier: Special Operations, Commandos, and the Future of Us Warfare by James F. Dunnigan
Saudis Spend Billions On Russian Weapons
by James Dunnigan
June 12, 2008
Discussion Board on this DLS topic
Russia has managed to sell Saudi Arabia $4 billion worth of weapons. Half of that is for 100 Mi-35 and Mi-17 helicopters. The Mi35 is the export version of the most recent Mi24. This is a twelve ton helicopter gunship that also has a cargo area that can hold up to eight people, or four stretchers. The Mi24 can carry rockets, missiles bombs and automatic cannon. It is used by over thirty countries, and has a pretty good reputation for reliability. The design is based on the earlier Mi-8 transport helicopter. Thus the Mi-17 is also a 12 ton helicopter, but without all the gunship stuff. It can carry 2.6 tons of cargo, or up to 24 troops. The Saudis are paying about $20 million per helicopter, which is on the high end for these models. So it appears that these choppers will come with all available accessories, maintenance contracts and the like.
Another $500 million buys 150 T-90 tanks. These are the Russian equivalent of the U.S. M-1, but are really very souped up T-72s. Certainly sufficient to deal with local foes (like the Iranians.) At about $3 million each, they are nearly half the cost of a late model M-1. The remaining items include over a hundred BMP-3 infantry vehicles, and twenty Buk M2E anti-aircraft missile systems (these are the latest version of the SAM-6, that proved so effective in the 1973 Arab Israeli war). The M2E missiles weigh 720 pounds each and have a max range of 50 kilometers. Four missiles are carried on a tracked vehicle. A target acquisition radar has a range of over 150 kilometers.
Saudi Arabia has been on a weapons buying spree since September 11, 2001, the Saudis have been spending $15-20 billion a year on weapons. Most of the sales go to U.S. firms.