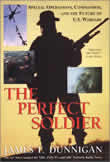 The Perfect Soldier: Special Operations, Commandos, and the Future of Us Warfare by James F. Dunnigan
The Ghost Subs Of Oz
by James Dunnigan
May 8, 2008
Discussion Board on this DLS topic
The Australian Navy has six Collins class subs, but only enough qualified sailors to provide crews for three of them. Each boats requires a crew of 45 highly trained sailors (eight of them officers.) In response to this shortage, the navy is offering large cash bonuses to get existing submarine sailors to stay in the navy, and to attract qualified recruits to serve on subs.
The Collins class boats were built in Australia during the 1990s, and are based on a Swedish design (the Type 471.) At 3,000 tons displacement, the Collins are half the size of the American Los Angeles class nuclear attack subs, but are nearly twice the size of subs Europeans are accustomed to designing and building for their own use. Australia needed larger boats because of the sheer size of the oceans in the area.
There were a lot of technical problems with the Collins class boats, which the media jumped all over. The design of these subs was novel and ambitious, using a lot of automation. This reduced the crew size to 45. A lot of the electronic technology was obtained from the U.S., Australia being the only foreign navy allowed access to some of this stuff. The problem with the small crew was that every one of the sailors had to be pretty sharp to begin with, then required years of training to learn the job.
The Australian navy has been suffering from a serious geek shortage for several years now. With a total strength of 13,000, being short a few dozen people in some job categories can have serious repercussions, and that's what happened to the submarine force. For example, the navy is short about a third of the marine engineering officers it needs. There are less serious shortages in officers specializing in electrical systems and weapons systems. Australian warships have been active in the war on terror, resulting in many crews being away from home for up to six months at a time. There are shortages of both officers and sailors with technical skills.
The situation is further complicated by a booming economy, and big demand for those with engineering degrees, and a few years of experience. This makes it easy for engineering officers to leave the navy and get a higher paying, and more comfortable, job. The navy is responding with cash bonuses, better living and working conditions, and other fringe benefits.
All Western navies have similar problems, and have applied similar solutions, with some degree of success.