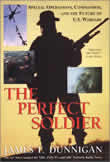 The Perfect Soldier: Special Operations, Commandos, and the Future of Us Warfare by James F. Dunnigan
Russian Doomsday Missile
by James Dunnigan
October 16, 2008
Discussion Board on this DLS topic
Russia has been finding a ready market for weapons it was developing at the end of the Cold War, but had to suspend work on during the 1990s because of lack of money. One of the more popular of these now available weapons is the SS-26 (9M723K1, or "Iskander") ballistic missile. Syria, Kuwait, South Korea, India and the United Arab Emirates are all interested in buying some. The United States was so impressed by Iskander, that it has threatened economic retaliation on Russia if Syria got hold of Iskanders. Despite that, the Russians are eager to make sales of the half million dollar missiles, as well as the transporter vehicle (from which the missiles are fired.) The Iskanders cost varies depending on which warhead and guidance system they were equipped with.
The Iskander finally completed its development in the last few years. The 3.8 ton missile has a range of 280 kilometers, and a 900 pound warhead. Russia sells several different types of warheads, including cluster munitions, thermobaric (fuel-air explosive) and electro-magnetic pulse (anti-radar, and destructive to electronics in general.) Guidance is very accurate, using GPS, plus infrared homing for terminal guidance. The warhead will land within 30 feet of the aim point. Iskanders are carried in a 20 ton 8x8 truck, which also provides a launch platform. There is also a reload truck that carries two missiles.
Another unique feature of Iskander is that it is not a traditional ballistic missile. That is, it does not fire straight up, leave the atmosphere, then come back down, following a ballistic trajectory. Instead, Iskander stays in the atmosphere and follows a rather flat trajectory. It is capable of evasive maneuvers and deploying decoys. This makes it more difficult for anti-missile systems to take it down. This is why the U.S. made so much noise when it looked like Syria might get some.
Russia is buying several dozen Iskanders for its own military. These versions have a longer range (400 kilometers) and more countermeasures (to interception). Russia will not provide details. Russia has admitted that it could use Iskander to destroy the U.S. anti-missile systems in a pre-emptive attack. Just in case Russia wanted to start World War III for some reason or another.
Russia developed the solid fuel Iskander to replace its Cold War era SS-23 battlefield ballistic missiles (which in turn had replaced SCUD). The SS-23 had to be withdrawn from service and destroyed by 1991, because the 1987 Intermediate Nuclear Forces (INF) treaty prohibited missiles with ranges between 500 and 5,300 kilometers. When post Cold War financial problems slowed down development of Iskander, this left Russia dependent on the shorter range (120 kilometers) SS-21 system, along with some aging SCUDS, for battlefield ballistic missile support. Russia used some of these older missiles against Chechen rebels in the 1990s.