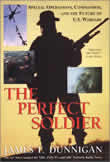 The Perfect Soldier: Special Operations, Commandos, and the Future of Us Warfare by James F. Dunnigan
The Russian Connection
by James Dunnigan
October 13, 2008
Discussion Board on this DLS topic
The blockade of Gaza has made the smuggling tunnels a major business, despite regular collapses and Egyptian police finding and destroying them. There's too much money to be made by operating a tunnel, so while the Egyptians discover and destroy at least one a day, work on another one begins. Hamas taxes the tunnels, obtaining nearly $4 million a year from that alone. Hamas operates some of the tunnels, making more money from smuggling in consumer goods. But the tunnels are also used to bring weapons in from Egypt, where police and government officials are bribed to look the other way. Meanwhile, Fatah announced plans to retake control of Gaza by force. While Fatah has established control over the West Bank, any move on Gaza would require cooperation from the Israelis. Something will have to be done about Hamas, because of the growing arsenal of rockets, and continued announcements that Hamas will eventually attack Israel and, with the help of Iran, destroy Israel.
The Israeli armed forces believe that Russia is using its intelligence forces, both agents inside Israel and spy satellites and ships, to collect information on Israel and pass it on to Hezbollah in Lebanon. The Israelis believe this has been going on for several years, apparently as part of some deal with Iran.
Several corruption investigations have caught up with Israeli prime minister Ehud Olmert, who has now resigned. The new prime minister will be former Mossad operative (and current foreign minister) Tzipi Livni. It's uncertain how much, if any, change there will be because of this.